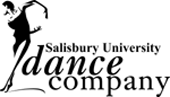 The Salisbury University Dance Company, which began in 1960, focuses on dance as a fine art and offers opportunities to work with professional choreographers and companies from around the country. The company produces two main concerts annually. Students rehearse and perform contemporary, ballet, jazz, modern, hip-hop, world dance, and musical theatre repertory, choreographed by resident faculty, nationally-renowned guest artists, and selected students. Entrance Auditions are required for new and returning members, usually held on the first Monday of fall and spring semesters.
Accepted students are required to register for DANC 106 Dance Company (1.0 credit) that meets on Mondays from 4:30-6:30 p.m. for master classes, rehearsals, and production activities. Casting auditions are held by all choreographers to determine the cast list for each work. A dancer can be cast in one to four works per semester. Additional rehearsals and meetings are scheduled throughout the week at the discretion of the Artistic Director. Company member benefits include: guest artist master classes and repertory, national honor and university awards, leadership development, production of original choreography, and possible educational trips.
A recipient of the Outstanding Student Organization award, the company has been recognized for excellence in performance and service as a positive representative of Salisbury University. The company is a member of the American College Dance Festival Association, the Maryland Council for Dance, and the Salisbury Wicomico Arts Council. It has received grants from the Maryland State Arts Council and the Salisbury Wicomico Arts Council, agencies funded through the state of Maryland and the National Endowment for the Arts.
For more information, contact Helen Myers, Artistic Director and Associate Professor, at 410-543-6278 or hmmyers@salisbury.edu.
Support the Dance Program Today!