Monday, October 31, 2011
Visiting Artist Helps Judge Art Department Mask Parade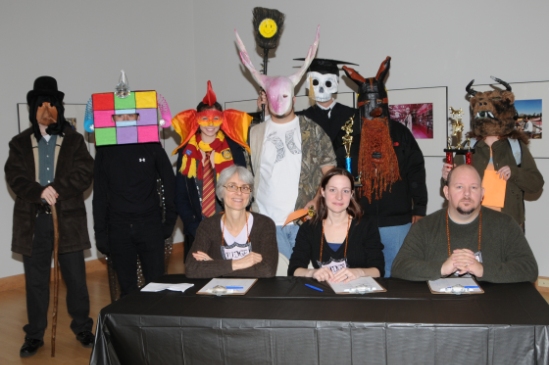 .: Related Sites :.

.: Related News :.

World-renowned designer and author John Foster today served as a guest judge for a mask parade and contest sponsored by Salisbury University's Art Department. Some 50 students and faculty participated.

Foster also lectured on campus during his visiting artist stay. His work has been published in books and magazines, hangs in galleries around the world and is part of the Smithsonian Institution's permanent collection. He has won gold and silver medals from the Art Directors Club, as well as a Best of Show designation from the ADDY Awards.
Pictured above (from front left) are judges Marjorie Hill and Jessica Davis, faculty in the SU Art Department, and Foster, along with semi-finalists for the mask competition (back row).
Also pictured (from left) are SU students and contest participants Sara Lands, Anissa Sego and Sasha Dulyachinda.
For more information call 410-543-6030 or visit the SU Art Department Web site at www.salisbury.edu/artdept.