Tuesday, November 1, 2011
Jackson Chamber Music Series Continues With Baltimore Consort Nov. 13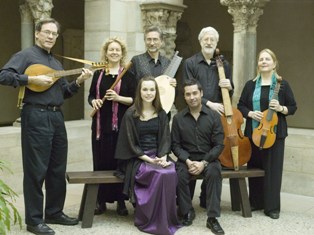 SALISBURY, MD---The Peter and Judy Jackson Chamber Music Series continues with the Baltimore Consort 7 p.m. Sunday, November 13, in Holloway Hall Auditorium.
Playing early music from England, Scotland, France, Italy, Spain and beyond, the consort regularly tours throughout the United States and Europe. Its albums have placed in Billboard magazine's top 10 list.
The consort has held residencies at Baltimore's Walters Art Gallery and Peabody Conservatory of Music, as well as the Piccolo Spoleto Festival in Charleston, SC. Performances have been broadcast by syndicated radio programs in the United States and Canada. The New York Times called the consort's New York debut "a serene and beautiful way to spend a Sunday afternoon."
Its members include Mary Anne Ballard (viols, rebec), Mark Cudek (cittern, viols, Renaissance guitar), Larry Lipkis (viols, recorders), Ronn McFarlane (lute), Mindy Rosenfeld (flute) and Jose Lemos (countertenor).
Ballard serves on the faculty of the summer Oberlin Baroque Institute. She formerly directed and coached early music at the Peabody Conservatory, Princeton University and the University of Pennsylvania, where she founded the Collegium Musicum.
Cudek is the founder/director of the Peabody Renaissance Ensemble, as well as the High School Early Music Program at the Interlochen Arts Camp. He received Early Music America's Thomas Brinkley Award for Outstanding Collegium director.
Lipkis is the composer-in-residence and director of early music at Moravian College, Bethlehem, PA. His works have been premiered by the Los Angeles Philharmonic and Houston symphonies.
McFarlane is a lutenist with over 30 recordings on the Dorian label. His original compositions are the focus of the CD Indigo Road, which received a Grammy Award nomination for best classical crossover album.
Rosenfeld is a founding member of the consort and a flutist with San Francisco's Phillharmonia Baroque Orchestra. A resident of California, she is a frequent guest artist with other West Coast early music ensembles, dividing her time between teaching, playing and family.
Lemos, a guest artist with the consort, won the 2003 International Baroque Vocal Competition in Belgium. A native of South America, he has since appeared in operas including leading characters in Britten's A Midsummer Night's Dream at Tanglewood and Handel's Giulio Cesare at the Boston Baroque, Zurich Opera and Göttingen Handel Festival.
Admission is free and the public is invited. For more information call 410-543-6271 or visit the SU Web site at www.salisbury.edu.