Tuesday, April 24, 2012
SU Social Work Students Support HALO Garden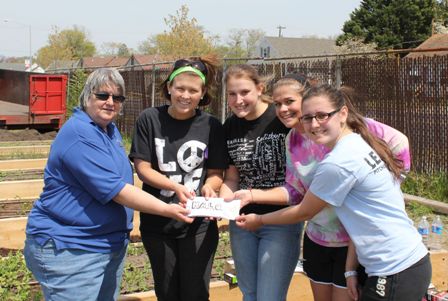 SALISBURY, MD---Salisbury University social work students are making life healthier for the homeless and other vulnerable populations through a community garden created by HALO (Hope and Life Outreach), located near campus behind the Giant Shopping Center.
Four students in Professor Eileen Gilheany's Macro Social Work Practice course have been working hard this semester to support the newly constructed garden located on what was a gravel and dirt parking lot. They raised over $800 and bought HALO a bird bath, bird feeders complete with seed, a wheel barrow and five berry bushes. Recently, the four young women spent a day working the garden creating a new garden space and planting the bushes.
According to Kathleen McLain, prime mover in the HALO project, the four constructed and installed plants in the first bed of HALO's garden perimeter on the southeast corner. "They did an impressive job," she said. They "began with a cleanup of trash and excavating some very stubborn wiregrass and weedy growth. This was followed by the construction of an L-shaped bed and then filling it with soil wheelbarrowed from a wagon at the other end of the garden and finally the installation of the plants and decorative items. As a final gift, they presented Celeste Savage, HALO executive director, with funds left over. … Many thanks to them for this wonderful project!"
The four are Casey Dressel, Kelsey Grant, Brittney Hilling and Marisa Cooke. The community project not only provides fresh fruit and vegetables to HALO clients, but an opportunity to work in the garden, offering additional health benefits.
"I am very proud of the accomplishments and hard work of these four students and their wonderful contribution to the HALO community, "said Gilheany. "They are one team out of 39 teams, all who are doing projects to benefit the community at large this semester. In Practice III social work students learn to work with communities and organizations to improve their functioning. Many local agencies and individuals are grateful for their caring and creative work and join with me in congratulating all the students who so successfully completed their community projects."
For more information call 410-543-6030 or visit the SU Web site at www.salisbury.edu.