Monday, November 21, 2011
Sea Gull Square Earns LEED Silver Certification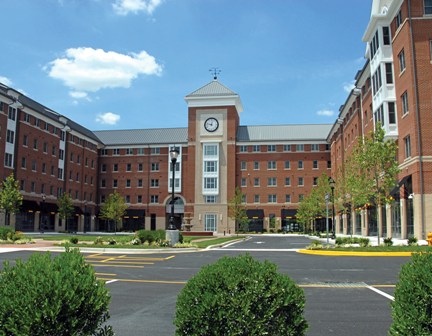 SALISBURY, MD---Just weeks after a festive ribbon-cutting ceremony that officially opened Salisbury University's Sea Gull Square, the building has a new milestone to celebrate.

The mixed-use residence-retail facility recently earned Leadership in Energy and Environmental Design (LEED) Silver certification from the U.S. Green Building Council (USGBC).

The environmentally friendly mixed-use complex is the third LEED-certified building on campus. SU's Teacher Education and Technology Center was certified LEED Silver in 2009, becoming the first LEED-certified new construction project on the Eastern Shore. The University's renovated Pocomoke Residence Hall followed with Gold certification earlier this year.

.: Related Sites :.

.: Related News :.

The USGBC is the nation's leading organization supporting environmentally responsible building.

The $45 million Sea Gull Square opened its doors to some 600 students this fall. On the ground floor, businesses from restaurants to retail shops and a hair salon serve both the campus and the community. Rinnier Development Company collaborated in the project with SU.

The 230,000-square-foot structure, the largest on campus, was built in a pre-developed area, limiting sprawl. Its proximity to bus lines encourages public transportation use, as does an inside bicycle storage room for residents. Low-volatile organic compound wood, carpet, paint and sealants reduce indoor air contaminants, while energy-efficient glass was installed throughout the building.

Sea Gull Square was designed to use 30 percent less water than industry standards while increasing energy performance by some 14 percent through the use of energy-efficient appliances. Some 75 percent of construction waste was recycled. Its roof color was chosen specifically to help mitigate heat island effect.

"Students continue to tell us how much they enjoy living in this state-of-the-art facility, and I have heard good things from the community about the restaurants and retail shops," said Dr. Dane Foust, interim vice president of student affairs. "This is like the cherry on top of that sundae. Sea Gull Square literally helped change SU's skyline, and it did so in an environmentally friendly way."

The LEED Silver certification continues an era of construction sustainability at Salisbury, an extension of the American College and University Presidents Climate Commitment pledge signed by SU President Janet Dudley-Eshbach.

The University also hopes to achieve certification for three more renovated residence halls — Manokin, Nanticoke and Wicomico — as well as Perdue Hall and the Bateman Street Building (formerly Noland).

The designer of Sea Gull Square was WDG Architecture of Washington, D.C. The general contractor was Whiting-Turner of Baltimore.

For more information call 410-543-6030 or visit the SU Web site at www.salisbury.edu.