Tuesday, November 22, 2011
SU's Lambda Eta Earns Sigma Theta Tau Chapter Key Award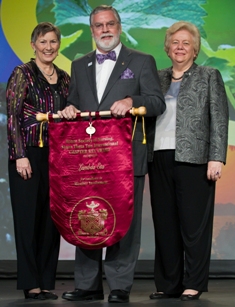 Dr. William Campbell, chapter president, accepts the Chapter Key Award from Sigma Theta Tau International President Dr. Karen Morin, left, and CEO Dr. Pat Thompson, right.

SALISBURY, MD--Salisbury University's Chapter of the Sigma Theta Tau International Honor Society of Nursing, Lambda Eta, has been awarded the Chapter Key Award to recognize its members for their accomplishments during the 2009-2011 biennium. The presentation of the engraved key and Banner of Excellence recently was made during the 41st biennial international convention in Grapevine, TX. Dr. William Campbell, president of Lambda Eta, accepted the award on the chapter's behalf. The key, banner and photographs of the presentation are on display in the Lambda Eta display case on the second floor of Devilbiss Hall, Room 222.

This was Lambda Eta's first time receiving this award, the highest honor given to chapters at the international level. It recognizes their extensive volunteer efforts including participation in the Girl Scout Nursing Exploration Fair and multiple educational offerings in leaderships, ethics, political action and international travel. The chapter also co-hosted the first evidence based practice conference on the Eastern Shore, participated in the new student mentoring program, and studied and taught abroad in the Caribbean.

For more information call 410-543-6030 or visit the SU web site at www.salisbury.edu.