Wednesday, February 20, 2013
SU's Ratti Explores 'Postsecular Imagination' in New Book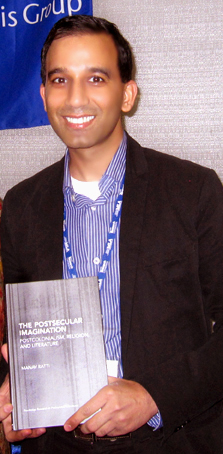 SALISBURY, MD---Religion and politics traditionally are two of the most controversial subjects to discuss.

For many, these belief-based issues are black-and-white, and nearly everyone has his or her own opinion. Dr. Manav Ratti, assistant professor of English at Salisbury University, however, sees plenty of room for "gray" areas — and he suggests they, too, are worth considering.

In his new book, The Postsecular Imagination: Postcolonialism, Religion and Literature (Routledge, 2013), Ratti examines works by a range of writers, including Salman Rushdie and Michael Ondaatje, to explore how they experiment with and gesture toward the paradoxes of a non-secular secularism and a non-religious religion.

"It's something we can all relate to," said Ratti. "Even if we are not believers, we have an understanding of what is believed in." For example, non-believers in religion have an understanding of the concept of God, and while not everyone is involved in politics, they are influenced by actions of the nation and the state, he said.

Ratti said his interest in this area grew as he began thinking about the possibilities of politics and religion if they were taken out of what he calls "either/or thinking." Often, people are compelled to accept one religion or political process over another — or none at all, he said. People's feelings on these issues often boil over, leading to conflictual speech and actions, especially in post-9/11 America, he noted. He also offered a potential solution:

"Let's go into the gray areas, somewhere between religion and secularism, between religion and politics, and see what might emerge there, especially as imagined by literature. Writers are immersed in the everyday life of the nation and its cultures — I wanted to explore how they are thinking about some of the greatest challenges of our time."

In that way, literature can span boundaries across many disciplines, including history, political science, religious studies, law, philosophy and anthropology, he said. "That richness of mode of inquiries is, for me, among the most fascinating aspects of reading and theorizing postcolonial literature," noted Ratti. "How do writers pursue affirmative values under the edge of the postcolonial, given the explosive combination of religion and nationalism, and the challenges of state secularism in pluralistic societies?" Engaging readers with the latest literary and cultural theories, Ratti advances these theories while making many texts accessible through original and incisive literary criticism.

In addition to Ratti's analysis, the book contains black-and-white photos taken by the author during his world travels. An expansion of his thesis written as a doctoral candidate at Oxford University, and incorporating his research as a Fulbright Scholar at New York University, Ratti's book has already received critical praise. Graham Huggan, a leading academic in the field based at Leeds University in the UK, hails the book as one of "three important monographs signaling a 'post-secular' turn in postcolonial theory and criticism" in the prominent journal Modern Fiction Studies.

Huggan is not the only person who has found the ideas expressed in the book thought-provoking. Exploring these topics in his classes at SU, Ratti noted, "the students have been passionately and rigorously engaged with these ideas, and that has been very exciting to witness and nurture."

For more information call 410-543-6030 or visit the SU website at www.salisbury.edu and the book's Web site at www.manavratti.com.