Wednesday, February 20, 2013
SU Theatre Presents 'Camelot' March 1-10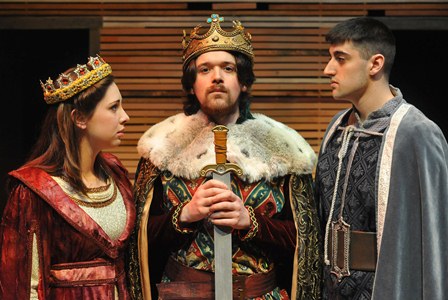 From left: Brittany Eaton, James Bartlett Carpenter and Michael Pistorio.

SALISBURY, MD---One of the most beloved legends of all time takes the stage at Salisbury University as the Bobbi Biron Theatre Program presents Lerner and Loewe's Camelot March 1-3 and 8-10 in Holloway Hall Auditorium.

Directed by Dr. T. Paul Pfeiffer, chair of the Theatre and Dance Department, with musical direction by Dr. William Folger, chair of the Department of Music, curtain is 8 p.m., 2 p.m. Sundays.

SU's production features both acting and music students, a combination Pfeiffer said has worked well: "They're just like family." In recognition of this camaraderie, the theatre program hosts "SU (K)Night" on opening night, offering free admission for SU students, faculty and staff with ID. Otherwise, faculty rates are $12 per ticket, and student admission is $10.

The musical production represents a homecoming of sorts for Pfeiffer, who played King Arthur as a senior in high school. In the play, the king's world is changed by the arrival of Lancelot, a French knight who proves himself the best of the Round Table and becomes Arthur's best friend while having an affair with his wife, Queen Guinevere. Meanwhile, Mordred, Arthur's illegitimate son, threatens to topple everything Camelot stands for.

Pfeiffer hopes the audience comes away with an understanding for the desires of all sides. "It's not 'Team Arthur' or 'Team Lancelot,'" he said, referencing allegiances that have been built around the romantic lead characters for the popular Twilight book and film series.

The crux of the play is much deeper than that, Pfeiffer said: "It's about thinking things through and working out problems by using your head instead of force or intuition or emotion."

The New York Times calls Camelot "charming." Variety hails it as "spellbinding."

The SU cast includes Robert Ackerman, Leah Wilson, Chris Hager, Eric Scott Russell, Nathan Gioconda, Reid deLisle, Melissa Valdivia, Courtney Stratemeyer, James Bartlett Carpenter, Brittany Eaton, Joe Arnett, Michael Pistorio, John Posner, Michael Windsor, Sarah O'Malley, Carrie Barr, Sarah Decker, Lindsay Hass, Chelsea Hines, Victoria Finley, Davonte Perry, Rachell Plunkett, Sarah Tart, Harry Early, Jake Moss, Bijan Navid, Patrick Pruitt, Sarah Burrel, Jennie Phelps and Lindsay Sapp.

Admission is $18, $12 for seniors and students with ID, $10 for groups of 15 or more with advance reservations. Tickets are available online at www.salisbury.edu/theatreanddance. Tickets also may be purchased through the SU Box Office, Fulton Hall Room 100.

For more information call 410-543-6228 or visit the SU Web site at www.salisbury.edu.