Wednesday, May 21, 2014
SU's Lembo Earns Fulbright English Teaching Assistantship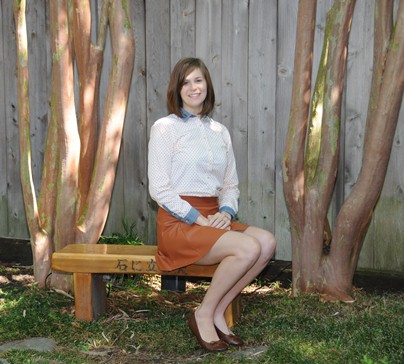 SALISBURY, MD---Despite being served live octopus and some "incredibly spicy" foods while teaching in South Korea last summer, Salisbury University senior Emily Lembo can't wait to return.
The Salisbury resident has earned a prestigious Fulbright English Teaching Assistant (ETA) grant to travel to the east Asian country for the 2014-15 academic year. The U.S. Department of State exchange program places recipients in schools overseas to supplement English language instruction and provide a native speaker in classrooms.
A New York native who moved to Salisbury with her family in 2007, Lembo earns her bachelor's degree in English with a concentration in Teaching English to Speakers of Other Languages (TESOL) in May 2014 from SU.
"My goal after graduating was always to go abroad and teach, and South Korea is the perfect fit for me," she said. "The Fulbright is a great platform to gain teaching experience and make connections with other people. I really would like to stay there longer than just one year."
SU's first Fulbright ETA grant recipient, Lembo leaves for South Korea in early July. Her experience begins with six weeks of orientation in Goesan, during which she will take Korean language classes and learn, practically, how to teach there. She does not yet know where she will be placed in the country, but she will live with a local family.
Lembo first traveled to South Korea for two months last summer, working as a volunteer English instructor at a private school on Jeju Island. The school is run by the father of two other SU graduates, Leo Choi '10 and Wonae Choi '12.
"I loved the country and the people," she said. "They were just as excited to help me learn about their culture as they were to learn about mine."
Lembo first went abroad before her senior year of high school, traveling with a group to China to teach English at a summer camp in a small town about two hours from Beijing. She credits these experiences and her work with SU's Center for International Education (CIE) this year with helping her form a successful Fulbright application.
In SU's Office of International Student and Scholar Services, Lembo helped provide social and co-curricular support to over 100 Korean and Chinese students, leading group trips to Washington, D.C. and the National Aquarium at Baltimore. She also started group conversation gatherings for international students at the University Writing Center, allowing them to practice speaking and talk about topics such as idioms and other nuances of the English language. She hopes to expand on this idea while in South Korea.

"SU has made major commitments in South Korea, in hosting international students and partnering with its institutions, so we look forward to Emily being another connection to this region," said Dr. Brian Stiegler, CIE director.

Lembo's faculty mentor, Dr. Lucy Morrison of the English Department, described her as "hard working, organized, committed and original." Recalling a video diary project from her "Jane Austen's England" Honors class, Morrison said: "Part of Emily's Fulbright success stems from her ability to want to better her own work; she always is happy to take direction to improve. She has made the most of her university experience."

Some of Lembo's other activities have included working as a resident assistant, which she said taught her leadership and responsibility, and being a Writing Center consultant, which gave her more practice in helping others improve their rhetorical skills. She also is a member of SU's Thomas E. Bellavance Honors program.

"Emily is an intelligent and motivated young woman," said Dr. Kristen Walton, director of Salisbury's Nationally Competitive Fellowships Office (SNCFO). "She has wanted to go to Korea on a Fulbright for a long time and made it a reality. She assisted at SNCFO's Fellowships Bootcamp earlier this month to encourage future Fulbright applicants, and she will be a great representative of Salisbury and the United States when she goes to South Korea."

Lembo is the daughter of Dr. Art Lembo, who teaches in SU's Geography and Geosciences Department, and Karen Lembo, of Salisbury. She is the first undergraduate student in SU history to earn a Fulbright award.

In 2012-13, Charles Overholt became SU's first graduate student to earn a Fulbright to study and research in Marburg, Germany. Alumnus Stephen Reilly '95 also earned a Fulbright, three years after his graduation, to study international relations in Sweden. He later founded Global Experiences, Inc., and is now executive director of the Fulbright Association. SU also has a long history of faculty Fulbright Scholars.

Students or faculty who would like more information about undergraduate or postgraduate fellowships may contact Walton at kpwalton@salisbury.edu. For additional details about Lembo's award, call 410-543-6030 or visit the SU website at www.salisbury.edu.