Dahlen to Earn Masters of Adapted Physical Activity in Belgium
Wednesday May 21, 2014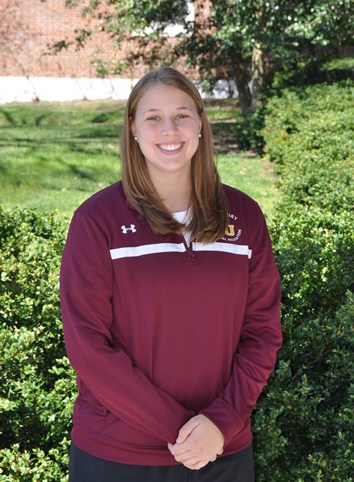 SALISBURY, MD---Salisbury University senior Elizabeth Dahlen is headed to Belgium for graduate school.
She was accepted into the Erasmus Mundus Masters of Adapted Physical Activity program at the Catholic University of Leuven and earned a tuition waiver valued at over $25,000 to participate.
"Liz was chosen from among many outstanding global candidates for one of only 20 non-European Union program slots in this international program," said Dr. Dean Ravizza of SU's Health and Sport Sciences Department, who has been Dahlen's faculty mentor. "She will study at one of the oldest and most prestigious European universities in one of the most highly regarded APA programs."
The two-year graduate program starts in fall 2014. It provides students comprehensive training in the field of adapted physical activity (APA) to help people with physical and mental disabilities. The goal is to prepare professionals who can design and evaluate APA programs in educational, rehabilitation and sports settings; conduct research; and collaborate across cultures to enhance opportunities for those with disabilities.
"There are a lot of people in this field who have master's degrees, but completing this program will hopefully set me apart," said Dahlen, a native of Gettysburg, PA. She graduates from SU this month with a B.S. in physical education, with the teacher education track and minor in health.
In addition to studying in Belgium, Dahlen will spend one semester at either the University of Limerick in Ireland or the Norwegian School of Sport Sciences for the sports management track she selected. Both are among the seven partner institutions involved in the Erasmus Mundus program. She hopes her degree leads to work with Special Olympics or a similar opportunity.
A 2010 graduate of Gettysburg Area High School, Dahlen is the daughter of Gary and Beth Dahlen of Gettysburg, and the granddaughter of Bill and Liz Platt of Easton, MD.
As an SU undergraduate, she studied abroad in Australia, and in Belize as part of a cross cultural perspectives in health class. She also completed an internship at Pinehurst Elementary School, under Ravizza's supervision, working with students with disabilities.
"It was challenging, but there was never a dull moment in class," Dahlen said. "I looked forward to working with each student to help them meet their goals."
Dahlen and the other first-year Erasmus Mundus students are invited to attend a week-long seminar taught by Ravizza and other international faculty and field practitioners in Germany in October on Communities in Crisis: Inclusive Development through Sport.
For more information, call 410-543-6030 or visit the SU website at www.salisbury.edu.

SHARE