Thursday, October 2, 2014
SU's Foltz Earns USM Regents' Staff Award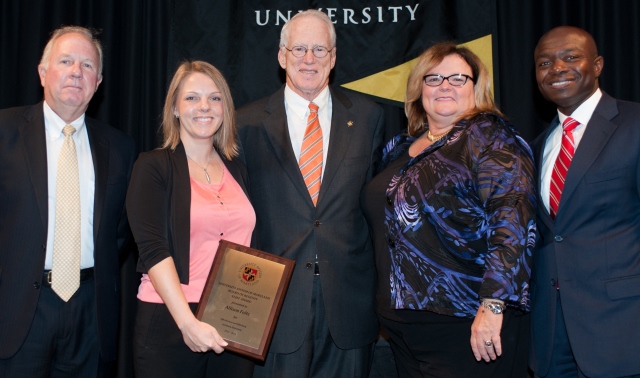 Pictured, from left: University System of Maryland Board of Regents Chair James Shea, Allison Foltz, USM Chancellor William "Brit" Kirwan, Salisbury University President Janet Dudley-Eshbach and SU Chief Information Officer Simeon Ananou.
SALISBURY, MD---With her computing expertise, Allison Foltz of Salisbury University's Information Technology Department has saved the institution between $30,000 and $60,000 annually, by some estimates.
For her efforts, she recently received one of the University System of Maryland's highest honors: the Board of Regents Staff Award for Excellence.
Recognized specifically for Effectiveness and Efficiency, Foltz has been instrumental in a number of major computing projects at SU, according to Simeon Ananou, chief information officer. Most recently, her skills allowed SU to implement a stand-alone human resource system on the PeopleSoft platform without having to hire outside consultants and with fewer staff than initially considered necessary.
"Ms. Foltz serves as a tremendous resource for the University on technical database issues and is called upon by many for her expertise at troubleshooting and working to find solutions," said SU President Janet Dudley-Eshbach, adding that she is "one of those indefatigable workers and problem solvers who labors quietly and doggedly behind the scenes to solve programs and streamline operations."
Foltz joined SU in 2004 as a programmer analyst, becoming database administrator in 2006.
"Allison is a go-to resource for others in the IT Department," said Ananou. "In her attempt to exceed the expectations of her peers, Allison goes the extra mile to script tedious and mistake-prone tasks so that administrative offices around the University can be more efficient, ultimately saving the University time and money.
"Allison is an intelligent, analytical, capable, dedicated and personable professional who has become a role model for her peers."
In a letter of support, Lee Howeth, SU network administrator, agreed: "Allison is an extraordinary coworker who always strives to get to the bottom of any problem. She loves to overcome obstacles and always goes well above and beyond in anything that she does for the University."
For more information call 410-543-6030 or visit the SU website at www.salisbury.edu.