Wednesday, October 1, 2014
SU Nursing Students and Student Health Services Confront Seasonal Flu Together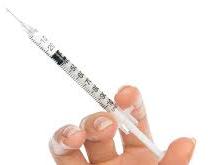 SALISBURY, MD---Salisbury University hosts campus flu vaccine clinics 9 a.m.-1 p.m. Wednesday, October 8, and Friday, October 10, in the Nanticoke Room of the Guerrieri University Center.
Sponsored by Student Health Services and the Nursing Department, cost of the flu shot is $15 per person. Cash, check and Gull Card payments will be accepted. SU students, faculty, staff, retirees, and their spouses or partners are eligible to participate. SU nursing students deliver the shots.
The Centers for Disease Control and Prevention (CDC) encourages everyone over the age of 6 months to be vaccinated. Because it takes approximately two weeks to build immunity, the CDC recommends the vaccine be given in October to ensure as many people as possible are protected before flu season begins.
Beyond the flu shot, individuals are encouraged to wash their hands (or use hand sanitizer, if water is unavailable) frequently, especially after touching high-contact surfaces such as doorknobs, elevator buttons, keyboards and counters, to help limit the spread of flu.
For more information about flu prevention visit www.cdc.gov/flu/about/disease/index.htm. For more information about SU's flu clinics call 410-543-6262 or email studenthealth@salisbury.edu.