Tuesday, February 19, 2013
Author, Illustrator Collier Speaks at SU Tuesday, February 19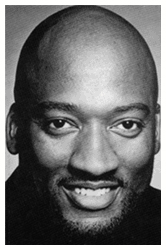 SALISBURY, MD---Award-winning children's author and illustrator Bryan Collier returns to Salisbury University to discuss and sign his works 4:30 p.m. Tuesday, February 19, in Teacher Education and Technology Center Room 226.

Collier, a native of Pocomoke City, MD, is a nationally celebrated artist and illustrator who has won five Coretta Scott King awards for illustration and three prestigious Caldecott Honors.

As a teenager, Collier began to develop a unique style of painting that incorporated both watercolors and collage. He writes about his work, "Collage is more than just an art style," he said. "Collage is all about bringing different elements together. Once you form a sensibility about connection, how different elements relate to each other, you deepen your understanding of yourself and others."

Collier's books include I, Too, Am America; Rosa; Dave the Potter: Artist, Poet, Slave; Martin's Big Words; Freedom River; Visiting Langston; and Barack Obama: Son of Promise, Child of Hope. Because of his Eastern Shore connections Collier has been a frequent visitor to SU.

Sponsored by the Samuel W. and Marilyn C. Seidel School of Education and Professional Studies, his talk is free and the public is invited. For information call 410-543-6030 or visit the SU Web site at www.salisbury.edu.