SU Students Present At Manifold GIS User Conference
Wednesday June 4, 2008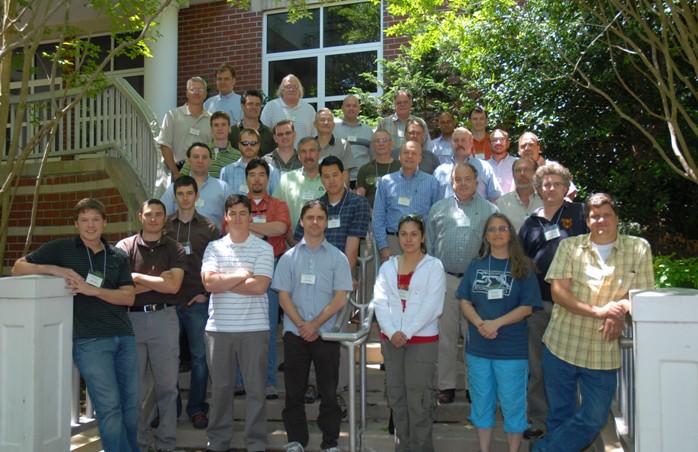 SU recently hosted the 2008 Manifold GIS User Conference, welcoming attendees from 15 states, as well as Canada, Australia and Turkey, to campus.
SALISBURY, MD---What started as a small gathering of geographic information system (GIS) specialists has grown into a larger, international conferenceand this year it was held at Salisbury University with presentations by current and former SU students.
Last week, students, faculty and professionals from 15 states, as well as Canada, Australia and Turkey, descended on the SU campus for the 2008 Manifold GIS User Conference. During the two-day event, recent SU graduates Benjamin Sigrist ('07) of Pocomoke City and Kevin Ross ('08) of Salisbury, as well as senior Adam Ruf of Hurlock, discussed their research and experiences with the Manifold software, which is used in the GIS field for mapping, visualization and data analysis.
"We are here at Salisbury to listen to our users and engage in an interactive process," said Dimitri Rotow, product manager for The Manifold® System. "The student perspective, at least that of SU students, is more sophisticated than others who have practiced this for awhile. These students are working with the latest, greatest, most recent software and the things they are doing are extremely cutting edge. It's very impressive."
Dr. Art Lembo of SU's Geography and Geosciences Department organized the conference. He also hosted the event at Cornell University in 2005, the last time it was held in the United States. "Every few years, a group of Manifold GIS software users get together to discuss the state of GIS and plan for future releases of the software," he said.
Attendee Hugh Gladwin of Florida International University in Miami said: "At my university, which is a big university in the Florida state system, there are only a few graduate students who are working at the skilled level of these undergraduates. It's an incredible experience for them to work with Dr. Lembo because GIS is rapidly changing and he's right at the edge."
Chris Marx, one of Lembo's former students from Cornell, attended the SU conference to explore better uses of the Manifold software at Cornell's Lab of Ornithology. "We do research and collect data from the observation of birds, and GIS is key to letting people explore our data," Marx said. "One major challenge is finding workable solutions for dealing with huge amounts of data; we are constantly searching for better GIS systems to handle data and create maps for the public. Dr. Lembo's GIS classes were my first introduction to using GIS technology in my field of conservation. He showed that not only is it feasible, but it's necessary."
A growing hub for GIS professionals, SU recently created a new Master of GIS and Public Administration Program, which is already benefitting members of the SU community and working professionals across the state. With classes on campus and online, the one-of-a-kind degree, which started last summer, combines the study of geographic information management with management of local government and municipalities. It may be completed in 13 or 25 months. For more information call 410-543-6030 or visit the SU Web site at www.salisbury.edu.