Wednesday, June 1, 2011
SU Student Wins 'Stop the Violence' Logo Competition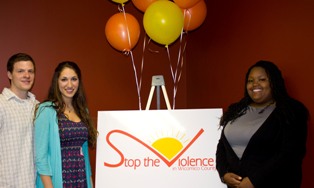 Pictured, from left, with the winning logo, are SU students Ross Tatka, Taylyn Fuhrman and Kristian Gregory-Lee.

SALISBURY, MD---Salisbury University marketing student Taylyn Fuhrman recently changed the face of a local non-profit organization—literally—as the winner of the Stop the Violence of Wicomico County, Inc. logo contest.

Fuhrman was one of three students in Paula Morris' Marketing 330 class to organize the competition. Other SU student organizers included Ross Tatka and Kristian Gregory-Lee.

Instead of creating a hypothetical product and a marketing plan for that product, these three students took on a real product—the logo contest—created a plan and then implemented that plan," said Morris. "They did an excellent job not only accomplishing the task for Stop The Violence, but adapting it to fully complete and exceed course requirements."

"Sponsored by Pohanka Automotive Group of Salisbury and the Dempsey family of businesses, the contest drew some 36 entries from local college, high school and middle school students.

"Taylyn's logo was the best logo out of the bunch. It encompassed exactly what we as a group were looking for in a logo" said Nina East, Stop the Violence publicity chair.

Asked to explain how she came up with the winning design, Taylyn said, "the S and the V were combined to form a figurative 'valley' to the 'new horizon' a child can see by involving themselves with Stop the Violence of Wicomico County. The sun implies happiness and warmth, which is the opposite of violence."

For her efforts, she received an iPad 2.

Stop the Violence of Wicomico County, Inc. is in the beginning stages of providing children on the east side of Salisbury with after-school and summer activities. Its ultimate goal is to open a Boys and Girls Club of America in Salisbury.

For more information on Stop the Violence in Wicomico County call East at 410-202-3452. For more information on SU, call 410-543-6030 or visit the University's Web site at www.salisbury.edu.