Wednesday, June 1, 2011
2011 Elementary Education Cohort Graduates From SU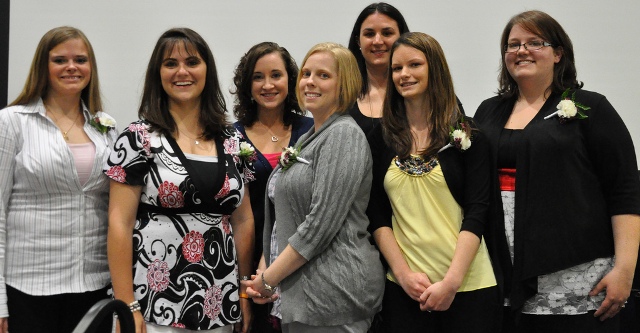 2011 Elementary Education Cohort members, from left: Jamie Bunting, Joanna Cain, Lindsay Bell, Laura Hise, Erika Coughlin, Nicole Dudding and Lauren Glover.

SALISBURY, MD---When Salisbury University conferred more than 1,500 degrees during its 85th year Spring Commencement ceremony at the Wicomico Youth & Civic Center, it was also a celebration for students from SU's Elementary Education Cohort Program. Cohort students accepted their diplomas along with traditional graduates during the 10 a.m. ceremony. Most of the cohort graduates previously completed an A.A.T. program at Chesapeake College in Wye Mills, MD.

Graduating cohort members reside on the Mid- and Upper Eastern Shore, as well in the Anne Arundel County area. The cohort program allowed them to complete their elementary education degree at SU while attending classes at the Eastern Shore Higher Education Center (ESHEC) at Chesapeake College.

Among the 2011 graduates are Lindsay Bell of Ridgley, MD; Jamie Bunting of Cordova, MD; Joanna Cain and Nicole Dudding of Easton, MD; Erika Coughlin of Gambrills, MD; Lauren Glover of Arnold, MD; and Laura Hise of Stevensville, MD.

"I consider myself lucky to have been in the SU cohort at the ESHEC," said Cain. "The faculty and advisors have been so supportive and understanding throughout this process.

"Having the chance to fulfill my dream of becoming a teacher while maintaining my job and staying close to my family was ideal. I was able to have the best of both worlds. The student-to-faculty ratio was small, which offered great one-on-one conferencing with professors. It also allowed for my fellow classmates and me to become close. We became each other's family."

A reception was held in their honor at the ESHEC, where representatives from both campuses gathered along with family and friends to celebrate their accomplishments.

Representing SU were Dr. Diane Allen, provost and senior vice president of academic affairs; Dr. Bob Tardiff, associate provost; Dr. Melanie Perreault, interim assistant vice president of academic affairs; Dr. Dennis Pataniczek, dean of the Samuel W. and Marilyn C. Seidel School of Education and Professional Studies; Dr. Ernie Bond, Teacher Education Department chair; and Dr. Diallo Sessoms, Elementary Education Program director, along with other Seidel School faculty and staff.

Representing Chesapeake College were Dr. Barbara Viniar, president; Dr. Kathy Barbour, vice president for academic affairs and economic development; Dr. Willie Woods, dean of liberal arts and sciences; and Dr. Deanna Stock, associate professor of teacher education. Also attending were principals and teachers from Talbot and Caroline county professional development schools.

The celebration was hosted by Deborah Urry, ESHEC executive director, and Dr. Amy Stephens Meekins, SU professor emeritus. The celebration marked the end of Dr. Meekins' tenure as the cohort liaison.

"It has been a pleasure working with such a remarkable group of students," she said. "They are an extraordinary group of teacher candidates who will become exemplary elementary teachers."

Members of past cohort graduating classes attended the celebration in addition to the newest 14 cohort members, who are scheduled to graduate from SU next May. Contingent upon sufficient enrollment, a new elementary education cohort begins each fall.

Students interested in joining a future cohort may contact incoming cohort liaison Sara Elburn at 410-677-6705 or sjelburn@salisbury.edu.