Friday, November 21, 2014
SU Professor Publishes Geography Text Used Nationally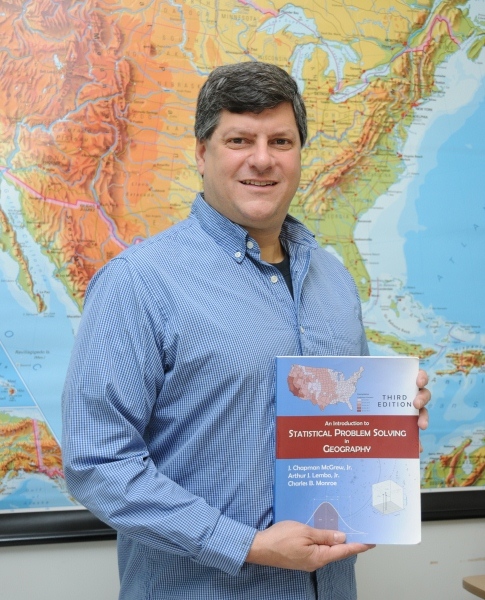 SALISBURY, MD---Dr. Arthur J. Lembo Jr. of Salisbury University's Geography and Geosciences Department has co-authored a textbook that is being used by over 40 schools in the U.S. and abroad.

The third edition of An Introduction to Statistical Problem Solving in Geography was written by Lembo, along with the late J. Chapman McGrew Jr. and Charles Monroe. It was published by Waveland Press, Inc.

Among the schools using the text are the University of Maryland College Park, Syracuse University, Florida State University, Penn State University and McGill University.

The authors explore the proper role of statistical analysis and methods in human and physical geography. They provide over 50 map examples and invite students to apply their new skills to solve real-world geographic issues.

McGrew, who was the lead author, retired from SU's Geography and Geosciences Department in 2006 after a career that spanned more than three decades. He passed away in July, after seeing the latest edition of his textbook through to completion.

Lembo joined SU's faculty in 2007 and is technical director of SU's Eastern Shore Regional GIS Cooperative. He previously taught at Cornell University.

Monroe is retired from the University of Akron, where he was a professor of geography and planning and associate dean in the Buchtel College of Arts and Sciences.

"Dr. McGrew was respected and admired by students and colleagues alike and I was honored to be able to work on this project with him," Lembo said. "What began as a short term project to put a fresh coat of paint on an older textbook turned into a three-year complete rewrite.

"Chapman and I were having so much fun writing this book and coming up with new ideas that we eventually had to agree to stop adding material and finally publish it. The additional time we spent was well worth it, as the book fills a unique niche in the field of geography and statistics."

Reader reviews call it "a great book, especially for geography students who do not have much background in stats" and "a must have book" to keep close to workstations because it "explains concepts well and opens new avenues in GIS operations."

Lembo maintains a blog about the book and GIS activities in his lab at artlembo.wordpress.com. His daughter, Emily Lembo '14, was SU's first recipient of the prestigious Fulbright English Teaching Assistant grant and is now living in South Korea.

For more information, call 410-543-6030 or visit the SU website at www.salisbury.edu.