Monday, March 27, 2017
SU Hosts Annual Entrepreneurship Competitions Friday, April 21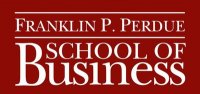 SALISBURY, MD---Salisbury University's Franklin P. Perdue School of Business hosts its annual Entrepreneurship Competitions for students Friday, April 21, in Perdue Hall, with a prize pool goal of $100,000.

Events include an "Invest in My Idea" poster session and a Shark Tank/Gull Cage round, during which students will present "elevator" pitches to the judges.

The top four finalists move on to the annual Bernstein Achievement Award for Excellence competition, vying for a grand prize of $20,000. Their presentations, open to the public, begin at 2:30 p.m. in Perdue Hall's Bennett Family Auditorium. An awards ceremony follows at 5 p.m. in the Perdue Hall Atrium.
Admission is free and the public is invited. For more information call 410-546-4325 or visit the Perdue School website at www.salisbury.edu/perdue.