Monday, July 22, 2013
SU Dining Services Inaugurates Rooftop Herb Garden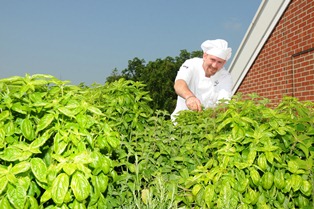 SU Sous Chef Matt Conley picks herbs from the new garden.

SALISBURY, MD---No. More. Plastic. Containers.

Those words are becoming a mantra when it comes to herbs in the kitchen at Salisbury University's Commons. In May, University Dining Services (UDS) began cutting back on processed herbs, purchased in bulk in large plastic containers, in favor of growing its own.

"It makes a world of difference when it comes to the taste of the food," said Tony Cerulli, associate director of UDS, who founded SU's herb garden.

The large metal rack, holding more than a dozen of the most popular potted herbs, sits near a watering system on the rooftop of the Commons, just outside his office. He was inspired by similar rooftop gardens he saw at the University of Massachusetts and Tufts University while attending National Association of College and University Food Services (NACUFS) conferences in New England.

Planted in April, the garden was bountiful enough to allow SU chefs to begin harvesting herbs for use during finals week last spring. This fall, the new program is expected to be implemented on a large-scale basis, with chefs hand-picking what they need each day.

It represents a dramatic change from those bulk spices, which "probably have about a year of shelf life, and they usually lose some of their flavor and texture during that time," Cerulli said.

He hopes the garden will help SU retain its NACUF rating as one of the top five campuses in the nation when it comes to food taste and quality, which is "based on all the scratch cooking we do." He offered as an example the dishes served at Plato's Plate, one of several dining options in the Commons, which emphasizes healthy and vegetarian dishes.

"It has taken off dramatically" in the past two years, he noted.

Though Cerulli's main focus is on the food — and serving some 6,000 meals each day to SU's students — the herb garden also has environmental benefits. Not only does it eliminate the need for those bulky plastic spice containers, but in the long run, the sustainable venture is expected to result in a cost savings for UDS.

For more information call 410-543-6030 or visit the SU Web site at www.salisbury.edu.