Monday, July 22, 2013
Works by Chesapeake Bay Artist Castelli on Display Through Friday, September 20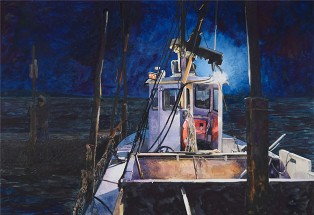 SALISBURY, MD---Artist Marc Castelli brings the Chesapeake Bay to life through his paintings, focusing on the watermen who have made their living on and by this great body of water for centuries.

"The Water Business," a solo exhibit of Castelli's works that depict the watermen and the bay, hangs through Friday, September 20, at the Salisbury University Art Galleries — Downtown Campus, 120 N. Division St.

An artist talk is 5 p.m. Thursday, September 12, in Fulton Hall Room 111 at SU. A talk by award-winning environmental writer and long-time Baltimore Sun reporter Tom Horton, faculty in SU's Environmental Studies Department, is 5:30 p.m. Friday, September 13, at the downtown gallery. A closing reception is 5-8 p.m. Friday, September 29, at the gallery.

Named a "Modern Marine Master" by the Mystic Maritime Museum Gallery in Connecticut, he often accompanies watermen to document their lives on the bay. The resulting paintings are the culmination of hundreds of hours spent on the water in various weather conditions.

Through the U.S. State Department's Art in Embassies Program, Castelli's work has been requested for ambassadors' residencies in Brazil, Qatar and Madagascar. As part of the U.S. Information Service, he has exhibited in Bombay, India, and Muscat, Oman. Sailing Magazine has regularly featured his articles and paintings.

Admission is free and the public is invited. For more information, including gallery hours, call 410-548-2547 or visit the SU Art Galleries Web site at www.salisbury.edu/universitygalleries.