Thursday, February 20, 2014
Phillips Seafood CEO Speaks at SU Tuesday, February 25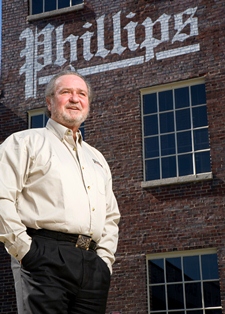 SALISBURY, MD---Steve Phillips' family has been part of the seafood industry for the past century, and the businesses he oversees have become household names.

The president and CEO of Phillips Foods, Inc. and Seafood Restaurants is the next speaker in Salisbury University's Perdue Executive Leadership Series. His talk is 3:30 p.m. Tuesday, February 25, in Holloway Hall Auditorium. A reception follows in the Social Room.

The Phillips' seafood empire began in 1914 with the A.E. Phillips & Son processing plant on the Chesapeake Bay. In 1956, Steve's parents, Brice and Shirley, founded the family's first restaurant. Steve played an instrumental role in the company's expansion, growing the brand with additional company-owned and franchise locations throughout the East Coast.

Faced with a diminishing supply of Chesapeake Bay crabs in the 1980s, he sought a new global source for the crustacean. He formed Phillips Foods in 1990 and has been credited with establishing the blue crab industry in southeast Asia.

The company currently operates an extensive network of crab and seafood processing plants there. This helps ensure a dependable year-round source not only for Phillips restaurants, but for grocery stores and other restaurants throughout the United States as part of the company's retail and foodservice divisions.

More recently, efforts have focused on establishing and encouraging an industry-wide commitment to crustacean sustainability. Phillips' efforts have resulted in major fishery improvement platforms, including the National Fisheries Institute Crab Council and Sustainable Fisheries Partnership Fishery Improvement Fund.

Sponsored by Bay Bank and the Franklin P. Perdue School of Business, admission to his talk is free and the public is invited. For more information call 410-543-6316 or visit the SU website at www.salisbury.edu.