Wednesday, December 4, 2013
Perdue School Co-Hosts Real Estate Seminar Friday, December 6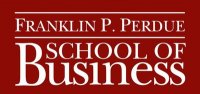 SALISBURY, MD---Salisbury University's Franklin P. Perdue School of Business co-hosts the seminar "Place-Making Economic Development and Corporate/University Real Estate Value Creation Strategies" 9 a.m.-noon Friday, December 6, in Perdue Hall's Bennett Family Auditorium.

The seminar, also presented by Sperry Van Ness and the Johns Hopkins Carey Business School, presents strategies and ideas organizers hope will serve as a catalyst for economic development projects and real estate strategies that will bring a new sense of market possibility to the Delmarva Peninsula.

Topics include creating strategic marketing plans and new "market stories" to transform under-productive real estate assets; developing place-making and branding strategies to help attract those seeking to relocate; and exploring how corporate, government and university real estate decisions may foster new economic development opportunities.

In connection with the seminar, SU's Business, Economic and Community Outreach Network (BEACON) unveils its new sustainable housing and real estate initiative. For more information visit http://shoresu.weebly.com.

Admission to the seminar is $75. Advance registration is available online at https://www.paypal.com/cgi-bin/webscr?cmd=_s-xclick&hosted_button_id=P3KS7FFEYTCT2. A copy of the program is available at http://shoresu.weebly.com/uploads/1/8/1/7/18173641/svn-su-jhu_symposium_-_overview_and_agenda_final.pdf.

Registration for SU students is $5 at the door. The first 25 students who register will be admitted free, courtesy of BEACON.

The event is sponsored by WSFS Bank; The Buccini/Pollin Group, Inc.; Avison Young; PNC Real Estate; the Salisbury Area Chamber of Commerce; and EDiS Company.

For more information call 410-543-6316 or visit the Perdue School website at www.salisbury.edu/perdue.