Friday, October 19, 2012
PACE Co-Hosts 'Future of the Shore' Discussion Monday, October 22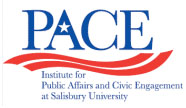 SALISBURY, MD---Salisbury University's Institute for Public Affairs and Civic Engagement (PACE) co-hosts the forum "Land, Water and Communities: What is the Future of the Shore?" Monday, October 22, in the Wicomico Room of the Guerrieri University Center.

Doors open at 5 p.m. for a light dinner. A community dialogue begins at 6 p.m. and finishes at 9 p.m. with "next steps." Jennifer Hicks of Sustainable Delmarva facilitates the discussion.

A "world café" meeting model is used at this event. The world café is an opportunity to have important "café-style" conversations as a way to connect diverse perspectives and help reveal common themes about land use, water quality and quality of life on the Eastern Shore.

This event is sponsored by PACE and the Maryland Humanities Council's "Let's Be Shore" project. Admission is free and the public is invited. For more information call 410-677-5045 or visit the PACE Web site at www.salisbury.edu/pace.