SU Philosophical Society Debate Monday, October 22
Thursday October 18, 2012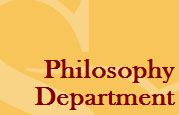 SALISBURY, MD---The topic of this year's Salisbury University Philosophical Society faculty debate is … whatever the audience wants it to be!
Adding a new twist to the event, the 2012 debaters, Drs. Joerg Tuske and Timothy Stock of the Philosophy Department, take on topics suggested by students, faculty and staff, and drawn at random. They square off 5 p.m. Monday, October 22, in SU's Philosophy House. Audience participation and discussion is encouraged.
Suggested topics will be vetted in advance and should be submitted to Dr. Richard England at rkengland@salisbury.edu by Friday, October 19.
For more information call 410-677-5070 or visit the SU Web site at www.salisbury.edu.