Nabb Research Center Hosts Day of Genealogy Events Saturday, October 19
Thursday October 10, 2013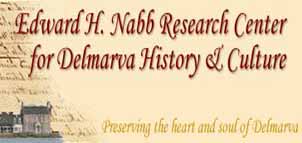 SALISBURY, MD---Salisbury University's Edward H. Nabb Research Center for Delmarva History and Culture (190 Wayne St.) celebrates Family History Month with three genealogy workshops Saturday, October 19.
Dr. G. Ray Thompson, center director, leads the workshop "Getting Started" from 9:30 a.m.-noon in the center's Reading Room. He covers the basics of conducting family history research and mining local sources. Participants receive materials to use in their research. Cost is $20, $15 for Nabb Research Center members.
Researcher M.K. Miles, creator of the online genealogy database "Miles Files," follows with the presentation "Making the Connections" at 1 p.m. in the adjacent Nabb Center Gallery. He leads a discussion on local family histories and provides guidance on compiling and organizing family research.
At 3 p.m., Vaughn Baker shares his 30-plus years of research on the British origins of the earliest Chesapeake Bay settlers. He rounds out the day's events by illustrating the alliances, networking and family connections among these early traders and settlers.
Admission to the afternoon presentations is free. The public is invited to all events. Space is limited, and reservations are recommended. For more information call 410-543-6312 or visit the Nabb Research Center website at http://nabbhistory.salisbury.edu.