Thursday, October 10, 2013
SU Celebrates Family Weekend October 18-20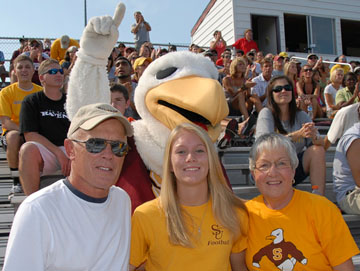 SALISBURY, MD---From talks and special dining to cultural and athletic events, Salisbury University celebrates Family Weekend 2013 from Friday-Sunday, October 18-20.

New this year is the Business Olympics, hosted by the Franklin P. Perdue School of Business from 1-5 p.m. Friday in Perdue Hall. Parents and students may form teams or compete against each other to win prizes including iPads, Kindles and Beats by Dre by answering questions and completing business-related activities.

Students and their families may learn more about college life and beyond during a series of presentations from 9-10:15 a.m. Saturday at the Guerrieri University Center. They include "Money Matters: Financial Literacy During the College Years" in the Pocomoke Room, "SU Study Abroad" in the Nanticoke Room and "What Employers Expect" in the Career Services Center.

A complimentary brunch for students and families in SU's Living Learning Communities is 10 a.m.-noon on the Quad. SU football takes on St. John Fisher College (NY) at noon at Sea Gull Stadium. Admission is $5, $3 for non-SU students, $2 for children ages 12 and under. SU ID holders receive one ticket free. Family members may purchase discount tickets for $3 at the Guerrieri University Center Information Desk until noon on game day.

The SU Parents and Family Association hosts a hospitality tent at the stadium from 11:30 a.m. until halftime, featuring giveaways, face painting and Sammy the Sea Gull temporary tattoos for children. Following the game, the association sponsors an ice cream social from 3-5 p.m. on the Henson Science Hall lawn (rain location: Perdue Hall Atrium).

University Dining Services' annual "Recipes From Home" dinner is 6:30 p.m. in the Commons, featuring winning recipes submitted by parents and family members. Cost is $11.53, $7 for children 5 and under.

Saturday events conclude with a show by magician and comedian Joseph Tran at 8 p.m. in Holloway Hall Auditorium. Tran is known for his ever-evolving, cutting-edge routines.

Sunday highlights include a jazz brunch featuring the band Slim DeNunn and the High Rollers from 11 a.m.-1 p.m. in the Commons. Admission is $9.26, $4.75 for children 5 and under.

Other events taking place during Family Weekend include the Bobbi Biron Theatre Program's production of Moisés Kauffman's The Laramie Project, by Dr. T. Paul Pfeiffer, chair of the Theatre and Dance Department, at 8 p.m. Friday-Saturday and 2 p.m. Sunday in the Black Box Theatre of Fulton Hall. The performances commemorate the 15th anniversary of the 1993 murder of Wyoming college student Matthew Shepard, which drew national attention to the need for hate crime legislation. Tickets are $15, $12 for seniors, SU alumni and students with ID, and may be purchased online at www.salisbury.edu/theatreanddance or at the SU Box Office, Fulton Hall Room 100. Proceeds benefit Broadway Cares/Equity Fights AIDS.

SU Art Galleries exhibits on campus featured during Family Weekend include "Marked: Recent Works by SU Art Department Faculty" in the University Gallery of Fulton Hall and "Electro Kinetic Grammar," an installation by Angel Nevarez and Valerie Tevere that explores the visual relationship between a drummer's mind and body, in the Electronic Gallery, Teacher Education and Technology Center Room 128. SU Art Galleries — Downtown Campus, 120 N. Division Street, presents two solo exhibits that examine the coal industry from different perspectives: "Rural" by Marty Weishaar and "In Support of Luxury" by Aaron Miller. All are open from noon-6 p.m. Friday and noon-4 p.m. Saturday.

Screenings of the movie Grown Ups 2 are scheduled 9 p.m. Friday and 1 p.m. Sunday in Devilbiss Hall Room 123. The Family Weekend Information Center is open 8 a.m.-5 p.m. Friday and 8-11 a.m. Saturday at the Information Desk of the Guerrieri University Center. The first 300 family members who visit the Information Center on Saturday receive a coupon good for $1 off their purchase at the adjacent Cool Beans Cyber Café.

The SU Bookstore is open for Sea Gull shopping throughout the weekend. In addition, Adrenaline High hosts a series of "Discover Delmarva" kayak trips during the weekend. Excursions leave from the Guerrieri University Center parking lot. Cost is $35 per person, and pre-registration is required. For more information call 410-749-2886 or 732-425-6454, or e-mail adrenalinehigh@comcast.net.

For more information, including a full schedule of events, visit the Family Weekend website at www.salisbury.edu/parents/familyweekend.