SU Nursing Department's 'Focus on Health' Celebrates 200th Episode
Thursday October 10, 2013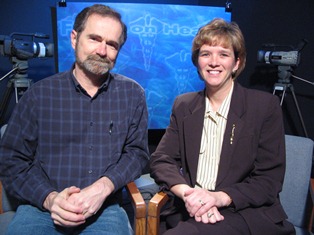 Creig Twilley and Dr. Mary DiBartolo
SALISBURY, MD---For more than a decade, PAC 14's
Focus on Health
has helped viewers in Wicomico County and beyond learn about health, medical care and prevention.
This month, the SU Nursing Department-produced show celebrates its 200th episode.
The program first aired in 2002 with host Dr. Lisa Seldomridge, now chair of SU's Nursing Department. Fellow faculty member Dr. Mary DiBartolo, who took over hosting duties early on and continues in that capacity, is looking forward to the milestone.
"In addition to interview shows, we have done shows at Giant on reading nutrition labels, two episodes in Spanish addressing health concerns in that population and programs addressing local needs, including updated information on vaccinations, infections and tuberculosis," she said.
"We appreciate all the support from the local community and the cooperation of the many health care providers who are eager to share their knowledge. We're very proud of what we have accomplished, but it's hard to believe we're at No. 200."
Some of the program's most popular episodes have taken viewers inside Peninsula Regional Medical Center's operating room, where live surgeries such as total hip replacement, open-heart bypass and robotic prostatectomy were taped. Some of those episodes, which are posted on YouTube and PAC 14's Video on Demand channel, have been watched more than 200,000 times.
"Focus on Health is a great educational resource for the community, said Creig Twilley, the show's producer and Director of PAC 14. "Everyone needs to become more proactive with their health these days, and Focus on Health provides that venue."
PAC 14 is located on Comcast channel 14 in Wicomico County. Shows also are streamed online at www.pac14.org.
For more information call 410-543-6030 or visit the SU website at www.salisbury.edu.
SHARE