Thursday, December 5, 2013
GUC Art Space Presents Works by Jamie Eichhorn December 2-January 3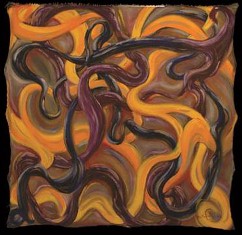 SALISBURY, MD---The Guerrieri University Center Art Space hosts the exhibit "The Spaces in Between" by senior art major Jamie Eichhorn of Snow Hill, MD, from December 2-January 3.

Eichhorn's work spans from abstraction to figurative representation. Her abstract works emphasize line and color. She has a strong background in darkroom manipulations, alternate photography processes and ceramics.

"It is my belief that figurative art must be elevated from the level of mere realistic representation to a level that also communicates an element of human nature," she said. "My figurative works address both the individual and how the environment affects the individual. There are so many variants on what shapes us as people, as a whole and as individuals that I find it impossible to focus on one aspect in our lives that may or may not be the driving force behind what we are.

"I want to depict the conflict between logical thought and completely illogical feeling. Ultimately, I want to depict the very essence of what makes us human. I want my work to evoke a relatable experience in all who view it."

The Art Space is located in the Guerrieri Center's second-floor concourse. Admission is free and the public is invited. For more information call 410-543-6247 or visit the Art Space website at http://www.salisbury.edu/guc/artspace.