Tuesday, March 13, 2012
GIS Students Create New Land Use Maps for State Legislators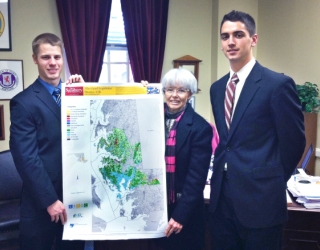 SALISBURY, MD---Salisbury University Geographic Information Systems (GIS) students were recently dubbed "rock stars" by some Maryland legislators.

They created large, full-color maps of land use in each of Maryland's new legislative districts for all 188 state senators and delegates.

Senior GIS Analyst Erin Silva of Salisbury and Brett Dobelstein of Eldersburg, MD, both in SU's Master of Science in GIS Management program, worked behind the scenes to produce the maps. Classmates John Lorman of Ocean City, MD, and Christian Zumstein of Dunkirk, MD, hand delivered them in Annapolis.

The response from legislators was overwhelming.

"We caused quite a stir," said Robby Sheehan, SU's interim director of government relations. "The legislators were absolutely blown away and staffers chased us down in the hallway to thank us."

He added: "They were surprised that SU [and the ESRGC] had the technology to produce such 'beautiful' maps. Chairman Norman Conway was especially excited to see his new map. Delegate Donald Dwyer said SU was 'the bomb' and Delegate Donald Elliott recalled the 'kind gesture' of receiving his first map."

SU generated an initial set of maps about six years ago, said Dr. Michael Scott, master's program director. Despite legislative turnover, many of the valuable charts have remained hanging on office walls inside Annapolis government buildings, he added.
"Many legislators had never actually seen their district in this way," Scott said. "So, as soon as the new districts were finalized and announced, we wanted to update their maps and give them new copies."
Based on recent land use and land cover data from the Maryland Department of Planning, the maps highlight 13 categories including forests, agriculture, residential and industrial areas.
"This was a major undertaking and the team turned them around in an extremely short time," Scott said. Silva explained: "We used GIS software to clip the data by each of the 2012 district boundaries. State Highway Administration annotations were added to properly label all roads, parks and bodies of water. A category legend was also included, along with an overview map."
Dobelstein said the project was one of many "unbelievable" opportunities offered to him through SU's Geography Department and the Eastern Shore Regional GIS Cooperative. All have taught him about project development, teamwork and deadlines.
"I have worked on countless projects as both an intern and graduate assistant, each with increasing responsibility," he said. "While classroom lectures have provided the necessary foundation to be successful in the world of GIS, it's the real-world experiences I've received here that will help make me a GIS professional."
The maps were made possible through partnerships with the Mid-Shore Regional Council and Tri-County Council, both of which were critical in the formation of the ESRGC at SU. To download and print the maps, visit http://www.esrgc.org/legislativemaps.php. For more information call 410-543-6030.