Tuesday, March 13, 2012
SU Alumna Earns $22,000 Scholarship to Johns Hopkins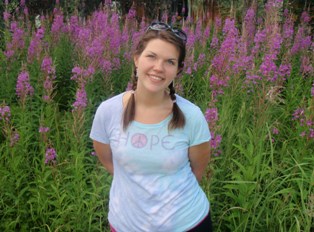 SALISBURY, MD---Salisbury University alumna Juliana Humphreys has seen a good portion of the world. Now she hopes to help protect it.

The 2011 graduate from Street, MD, recently was accepted into Johns Hopkins University's Bloomberg School of Public Health, where she will pursue her M.S. in public health. Her acceptance included a $22,000 scholarship, with the possibility of an additional $33,000 during her second year of study.

Humphreys earned her B.A. in environmental studies from SU, minoring in sociology and Spanish. She participated in several study abroad experiences while at Salisbury, performing community service in Costa Rica and learning about the environment in India and Peru. She also was engaged in volunteer service while in Peru.

Through these experiences, with the help of her professors, she learned research basics she hopes to employ at Johns Hopkins. She said she appreciated how approachable her professors were at SU, especially her advisor and director of the Environmental Studies Program, Dr. Mike Lewis.

"His support has been instrumental in my acceptance to graduate school," said Humphreys. "He has gone above and beyond in offering guidance, and his encouragement has really meant the world to me."

Lewis said he was proud not only of Humphreys, but that her success in multiple fields showed the importance of academic interconnectivity.

"The Bloomberg School is widely regarded as the best school of public health in the United States, if not the world," he said. "This provides yet more evidence that an interdisciplinary course of study based in the liberal arts can provide a rigorous and relevant preparation for a wide range of careers and graduate programs."

In addition to her dedication the environment, Humphreys also was able to explore another passionate interest at SU: music. As an undergraduate, she was a member of the University's Squawkapella a capella singing group and participate in "jam nights" at the cutting-edge recording studio in SU's Teacher Education and Technology Center.

Perhaps her most rewarding experience, however, was interning at the Migrant Clinicians Network, where she was later employed.

"My work with Amy Liebman, the director of environmental and occupational health for the organization, solidified my passion for public health," she said. "My internship united my passions for environmental and social justice. After grad school, I hope to practice public health in a way that will positively impact the health of marginalized populations.

"My dream job would be in the field of Latino health promotion, so I can use my Spanish language skills, too!"

A Dean's List student, Humphreys is the daughter of Janice Humphreys and the late Bob Humphreys of Street.

For more information call 410-543-6030 or visit the SU Web site at www.salisbury.edu.