Wednesday, March 14, 2012
Delegate Adrienne Jones Named SU Hargreaves Fellow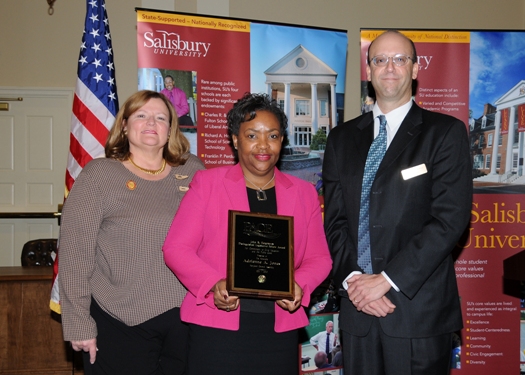 Pictured, from left, are SU President Janet Dudley-Eshbach, Delegate Adrienne Jones and PACE Director Adam Hoffman.

SALISBURY, MD---Maryland Delegate Adrienne Jones is Salisbury University's 2012 John R. Hargreaves Distinguished Legislative Fellow.

Created by SU's Institute for Public Affairs and Civic Engagement (PACE) to recognize outstanding legislators for distinguished public service, the award was presented by SU President Janet Dudley-Eshbach during a ceremony at the Lowe House Office Building in Annapolis.

"As the first African-American woman to serve as Speaker Pro Tem of the Maryland House, Delegate Jones is an important figure in our political history," said Dudley-Eshbach. "As a member of the Appropriations Committee, she has the difficult task of allocating state resources in a manner that is effective and humane—attempting to do the most good possible during challenging economic times. We believe her commitment and spirit will inspire our students as they pursue careers in public service and positions of civic leadership."

Jones represents the 10th Legislative District of Baltimore County. A House of Delegates member since 1997, she has been Speaker Pro Tem since 2003. She serves on many important committees including the Oversight Committee on Pensions, Health and Human Resources Subcommittee, Legislative Policy Committee, Spending Affordability Committee and Joint Committee on Legislative Ethics, among others. She also co-chairs the Capital Budget Subcommittee, Joint Legislative Work Group to Study State, County and Municipal Fiscal Relationships, and Joint Committee on Fair Practices and State Personnel Oversight.

In addition, she is a member and past president of Women Legislators of Maryland, and a member of the Legislative Black Caucus of Maryland and the National Conference of State Legislatures. She was a delegate at the Democratic National Convention in 2008 and is an American Cancer Society board member. She has been honored with the Baltimore County branch of the National Association for the Advancement of Colored People's Award of Appreciation, the Governor's Certificate of Merit for outstanding contributions in the field of victims' rights and services, and the Maryland State's Attorneys Association's Delegate of the Year Award. The Daily Record has named her among "Maryland's Top 100 Women" three times, inducting her into its Circle of Excellence.

"Delegate Jones is an energetic leader whose dedication and passion for public service makes her an excellent model for our students. We look forward to her visit to campus later this spring," said Dr. Adam Hoffman, director of PACE.

Jones is the 11th recipient of the Hargreaves Fellowship. Past honorees include House Speaker Michael Busch; Senate President Thomas V. "Mike" Miller, senators J. Lowell Stoltzfus, Brian Frosh and Rob Garagiola; and delegates Talmadge Branch, Addie Eckhardt, Sheila Hixson, Norman Conway and the late Howard "Pete" Rawlings.

Sponsored by PACE, the Hargreaves Fellowship not only salutes public servants, but also allows SU students to meet with outstanding state legislators to learn firsthand about the responsibilities and rewards of public service.

Funding for the award was made possible by contributions to SU in memory of the late John R. Hargreaves, a former member of the Maryland General Assembly from Caroline County. As part of the fellowship program, Jones will meet with PACE students later in the legislative session and visit the SU campus to speak to students and community members about her service in the House.

For more information call 410-543-6030 or visit the SU Web site at www.salisbury.edu.