Dr. Dane Foust Named SU Vice President of Student Affairs
Friday March 16, 2012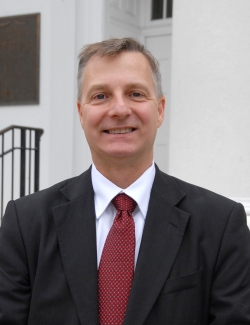 SALISBURY, MD--A seasoned administrator who has played a leadership role in campus developments such as the new Sea Gull Square complex and strategic enrollment planning has been appointed Salisbury University's Vice President of Student Affairs.
"After thoroughly vetting a number of excellent candidates, I am very pleased to announce that Dr. Dane Foust has emerged the top finalist and has accepted my offer," said SU President Janet Dudley-Eshbach. "Dr. Foust has served the community extremely well since 2006 when he came to Salisbury as our Associate Vice President of Student Affairs. More recently, upon the departure of Dr. Ellen Neufeldt last summer, Dane has served as Interim Vice President of Student Affairs. Accordingly, he brings significant knowledge of the campus community, enrollment management, assessment, retention, housing and all areas of student support to the vice presidency."
"I'm grateful for this opportunity provided by President Dudley-Eshbach. It is a pleasure to work at an institution that is moving forward," Foust said. "These are challenging times for higher education. Fortunately, there is strong leadership here, with a positive 'get it done' attitude. I'm proud to be part of this team."
Foust holds a doctorate in higher education administration from The Pennsylvania State University, and for more than two decades has worked at campuses in Pennsylvania and New York as well as Salisbury.
With many years of experience in housing and residence life, Foust is an enthusiastic supporter of SU's Living Learning Communities, which now offer some 15 options ranging from the performing arts to STEM (science, technology, engineering and mathematics). He was a leader in the development of SU's $45 million Sea Gull Square residence-retail complex and the ongoing renovation of the campus' traditional residence halls. In the coming year that work will focus on Choptank and Chester halls, six-story, 234-bed high rises, undergoing some $12.5 million in renovations. The new buildings will have state-of-the-art Living Learning Community classrooms.
As an active accreditor for the Middle States Commission on Higher Education, he has reviewed seven institutions nationwide, giving him valuable insights into campus success. Foust said he will continue to champion a strong collaborative approach to shaping the culture and look of SU. Foust is also a believer in the Fulton School of Liberal Arts' curriculum reform, which encourages outside-the-classroom collaborative learning. He cited a recent program co-sponsored by the Graduate Student Association, Student Government Association and the Institute for Public Affairs and Civic Engagement (PACE) about gay marriage which generated considerable student conversation and debate. "I want timely and thought-provoking programs such as this to grow," he said.
One critical area for the University that Foust oversees is student enrollment and recruitment. Many times prospective students apply to more than one campus. The University tracks, for assessment purposes, which institutions they apply to. The top five "cross over" campuses for SU students for this upcoming year are James Madison, UMBC, University of Delaware, UMCP and Towson, he said. Among the top 25 are Penn State, Drexel, Virginia Tech, George Mason, South Carolina and other well-regarded campuses. "Salisbury is keeping good company with many institutions with strong academic reputations. In addition, countering national trends, the number of SU applicants is up by more that 10 percent so far this year, and the academic quality of incoming students is continuing to rise as well."
One of Foust's passions is volunteerism. He is a graduate of Leadership Maryland, a select group of executives who are informed of the critical issues facing the state. In the greater community he has served with Shore Leadership and is a member of the board of directors of Village of Hope.
As director of student life on the Semester at Sea program, he led almost 700 students around the world on a 100-day educational experience. As part of the program, they traveled to South Africa, where they assisted in programs designed to nourish small children. He also led students to India where they worked with children whose parents had been killed by a tsunami and were living at an orphanage sponsored by Mother Teresa. "In their voyage around the world, they learned what a privilege it is to be part of the country we live in. It is something to be proud of—and we have a global responsibility. Only one in 1,000 people worldwide has a college education. Programs that teach college students service, civility and community responsibility are important to me."
Student affairs divisions traditionally play crucial roles in American higher education. According to a front-page feature in the current Chronicle of Higher Education, the nation's most highly regarded academic news source, the American model of learning outside the classroom increasingly is being adapted and implemented globally. Higher education providing "a holistic student experience of both academic and personal development," long held in the United States and Canada, "is gaining currency on other continents." Student services to cultivate leadership and citizenship, career and employment opportunities, mental and other health counseling, and student retention—these and more are becoming part of university programs in Europe, Asia and the Middle East, The Chronicle said.
In North America, such services are usually under the umbrella of student affairs. Foust will lead a division of 16 areas and offices with a staff of 130.
SHARE