Thursday, January 31, 2013
Counseling Center Launches STAND4YOU Feb. 7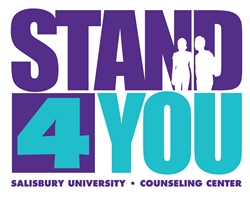 SALISBURY, MD---Salisbury University's Counseling Center has launched its new STAND4YOU suicide prevention and mental health promotion program. A kickoff event for faculty, staff and students is 3-5 p.m. Thursday, February 7, in the Guerrieri University Center, Fireside Lounge.

Starting at 3:30 p.m., guest speakers include Dr. Dane Foust, vice president of student affairs; Dr. Lance Garmon, Psychology Department faculty; and Katherine Mooney, Student Government Association president.

The first 100 people in attendance receive free T-shirts. Door prizes and refreshments also are provided. Other activities include student performances, games and informational tables from student organizations, the Wicomico and Worcester County health departments, the Life Crisis Center and Eastern Shore Mobile Crisis.

The program is sponsored by the Counseling Center and the Office of Student Affairs.

.: Related Sites :.

.: Related News :.

STAND4YOU is being developed through a three-year $302,883 grant from the U.S. Department of Health and Human Services' Substance Abuse and Mental Health Services Administration. Goals include using awareness campaigns, discussion groups, e-trainings and outreach consultations to foster early detection of mental health issues and change student behavior by increasing their openness to seeking help.

In addition to the Counseling Center, anyone needing help with suicidal thoughts, depression or other mental health concerns may call the National Suicide Prevention Lifeline at 1-800-273-8255 or visit www.suicidepreventionlifeline.org.

For more information, contact Dr. Kathleen Scott, STAND4YOU project director, at 410-543-6070 or kjscott@salisbury.edu.