American Spiritual Ensemble, Community Singers Present 'A Spiritual Messiah' Nov. 17
Thursday November 7, 2013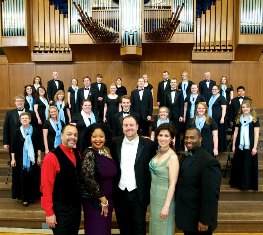 SALISBURY, MD---Members of the acclaimed American Spiritual Ensemble return to Salisbury for a special concert with the Salisbury Chorale and University Chorale on Sunday, November 17.
The ensembles present "A Spiritual Messiah" at 5 p.m. in Salisbury University's Holloway Hall Auditorium. The concert features the themes of Handel's dramatic classic, performed with Negro spirituals.
Directed by Dr. William Folger, chair of SU's Department of Music, the chorales are comprised of more than 80 singers, accompanied by Susan Zimmer.
Founded by Dr. Everett McCorvey in 1995, the Ensemble strives to keep the tradition of American Negro spirituals alive. It has performed throughout the world, including such prestigious venues as the Metropolitan and New York City operas. It also has been broadcast as part of the PBS documentary The Spirituals. Its members include SU music faculty John Wesley Wright.
Sponsored by the Department of Music, admission is $15, $12 for seniors and children 12 and under. For more information call 410-543-6385 or visit the SU website at www.salisbury.edu.
SHARE