Monday, March 1, 2010
Adams Publishes 'Follow the Money'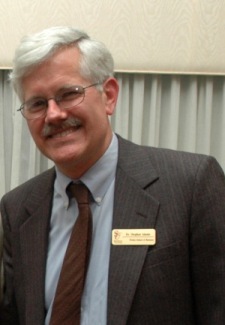 SALISBURY, MD---Dr. Stephen Adams of Salisbury University's Management and Marketing Department has twice taken his expertise in entrepreneurship and regional economic development to a center of U.S. innovation: Silicon Valley, California.
While on sabbatical in spring 2009, Adams was a Visiting Fellow at the Bill Lane Center for the Study of the North American West at Stanford University, in the midst of this high-tech region.
Adams recently returned to Stanford to share his article "Follow the Money: Engineering at Stanford and UC Berkeley During the Rise of Silicon Valley," published in the December issue of Minerva: A Review of Science, Learning and Policy.
Adams wrote "Follow the Money" while at the Lane Center in 2009. The 22-page article analyzes the engineering schools of Stanford and the University of California at Berkeley during the 1940s and 1950s.
Adams compares the two based on leadership, strategy and gathering of resources. He shows how the two schools' approaches in these areas differed, resulting in Stanford engineering's earlier cultivation of relationships with industry, an important factor in the growth of Silicon Valley.
Adams said that comparing these two top-notch schools showed that "having an excellent engineering program is necessary, but not sufficient to anchor a high-tech region."
The full article can be found in the December 2009 publication of Minerva: A Review of Science, Learning and Policy by Springer Science + Business Media.
For more information call 410-543-6030 or visit the SU Web site at www.salisbury.edu.