Lepre Celebrates Decade of SU Partnership with South Korea's Chonnam National University
Thursday April 6, 2023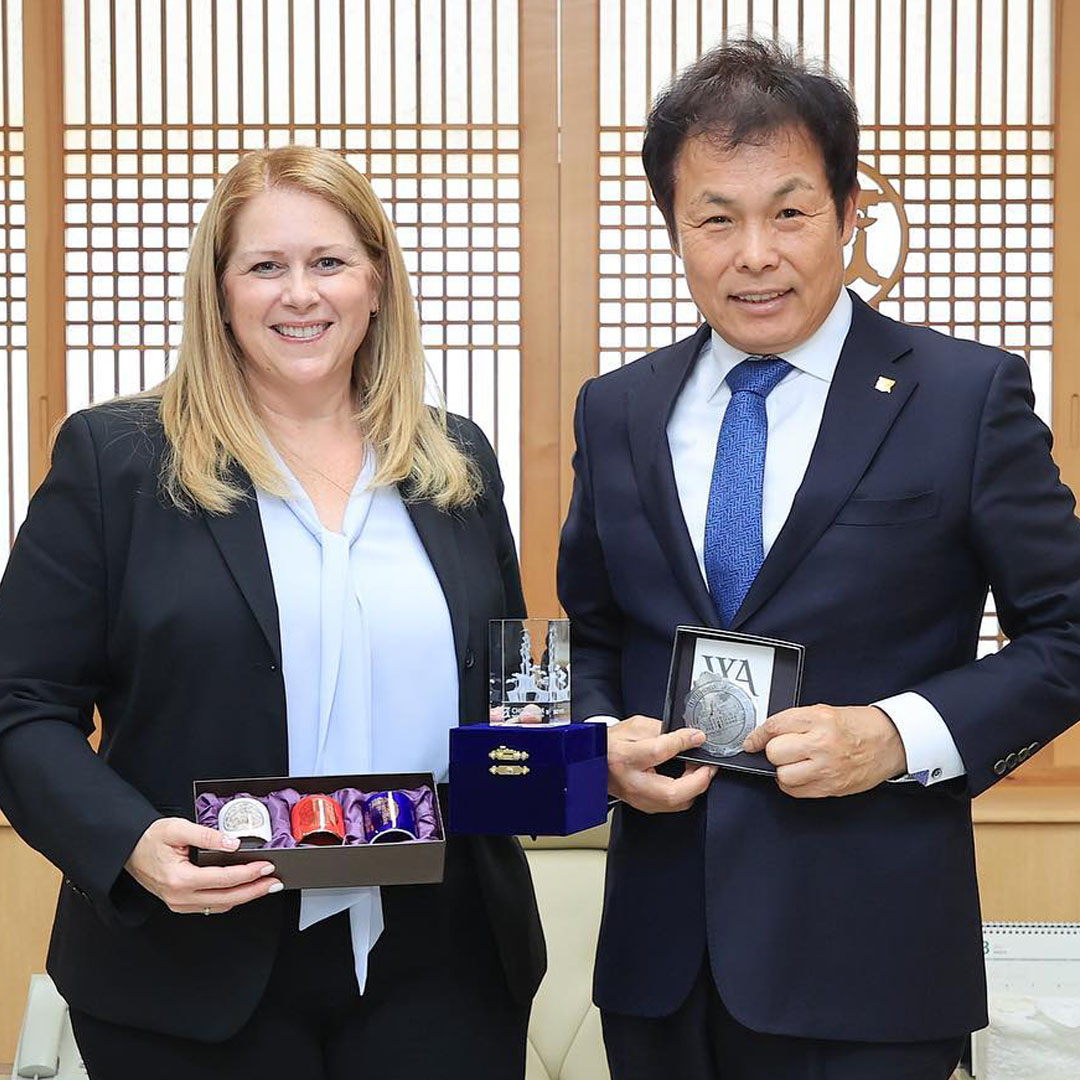 SALISBURY, MD---For the past decade, dozens of students from Salisbury University and Chonnam National University (CNU) in Gwangju, South Korea, have experienced culture and education abroad thanks to a partnership between the two campuses.
Recently, it was SU President Carolyn Ringer Lepre's turn. In March, she visited Gwangju to celebrate the 10th anniversary of the agreement with CNU President Jung Sungteak.
During the first decade of the partnership, more than 100 CNU students have studied at SU, either furthering their education as exchange students in the undergraduate academic program or improving their skills in English as a foreign language in SU's English Language Institute. Over the same period, two dozen SU students — mostly from the Charles R. and Martha N. Fulton School of Liberal Arts and Franklin P. Perdue School of Business — have studied on exchange at CNU.
"The partnership with CNU has been one of SU's most important Asian initiatives and most productive global partnerships worldwide over the past decade," said Dr. Brian Stiegler, SU assistant provost for international education.
Joining Lepre on her visit was Dr. Arthur Lembo, SU professor of geography and geosciences, who will teach and conduct research at CNU next fall as a Fulbright Scholar. His textbook, An Introduction to Statistical Problem Solving in Geography, already is used by CNU's Geography Department.
Lembo's high-level engagement with CNU is only the latest highlight of the family's connections to the university. His youngest daughter, SU junior Katherine Lembo, is the latest Salisbury exchange student to study at CNU this spring.
Lepre also visited with Lembo's oldest daughter, Emily (Lembo) Moon '14, who resides in Korea with her husband, Moon Cheonji and their daughter, Joy. The couple met during Cheonji's time as a CNU exchange student at SU, when Emily was a member of the SU Buddy Program, welcoming visiting international students to campus. As SU's first senior Fulbright Student, Emily reconnected with Moon during her Fulbright English Teaching Assistantship in South Korea.
As a student at SU's English Language Institute, Moon's English improved so much that when he served his mandatory two years of military service through his home country, he was invited to be assigned to a U.S. Army division.
As the SU-CNU partnership celebrates its first decade, the couple will celebrate their fourth wedding anniversary this year.
"The adventures in global learning that Dr. Lembo, Emily, Cheonji and Katie have lived as a result of the partnership between SU and CNU is the perfect example of how international education at SU can change students' lives," said Lepre.
The next 10 years of the SU-CNU partnership are already off to a strong start. During the 2022-23 academic year, CNU sent the first doctoral student from its Korean Education Program to teach Korean language at SU. This Global Scholar initiative aims to strengthen Korean language studies at SU over the next several years.
"The partnership between SU and CNU is just one of the many opportunities that SU has created for students to make tomorrow theirs all around the world," said Stiegler.
For more information about opportunities to study abroad at CNU or to be a Buddy for new international students, SU students may visit the SU Study Abroad webpage at http://studyabroad.salisbury.edu.
Learn more about opportunities to Make Tomorrow Yours at the SU website.