SU Downtown Donors Recognized for Opening Doors for Students
Tuesday September 27, 2022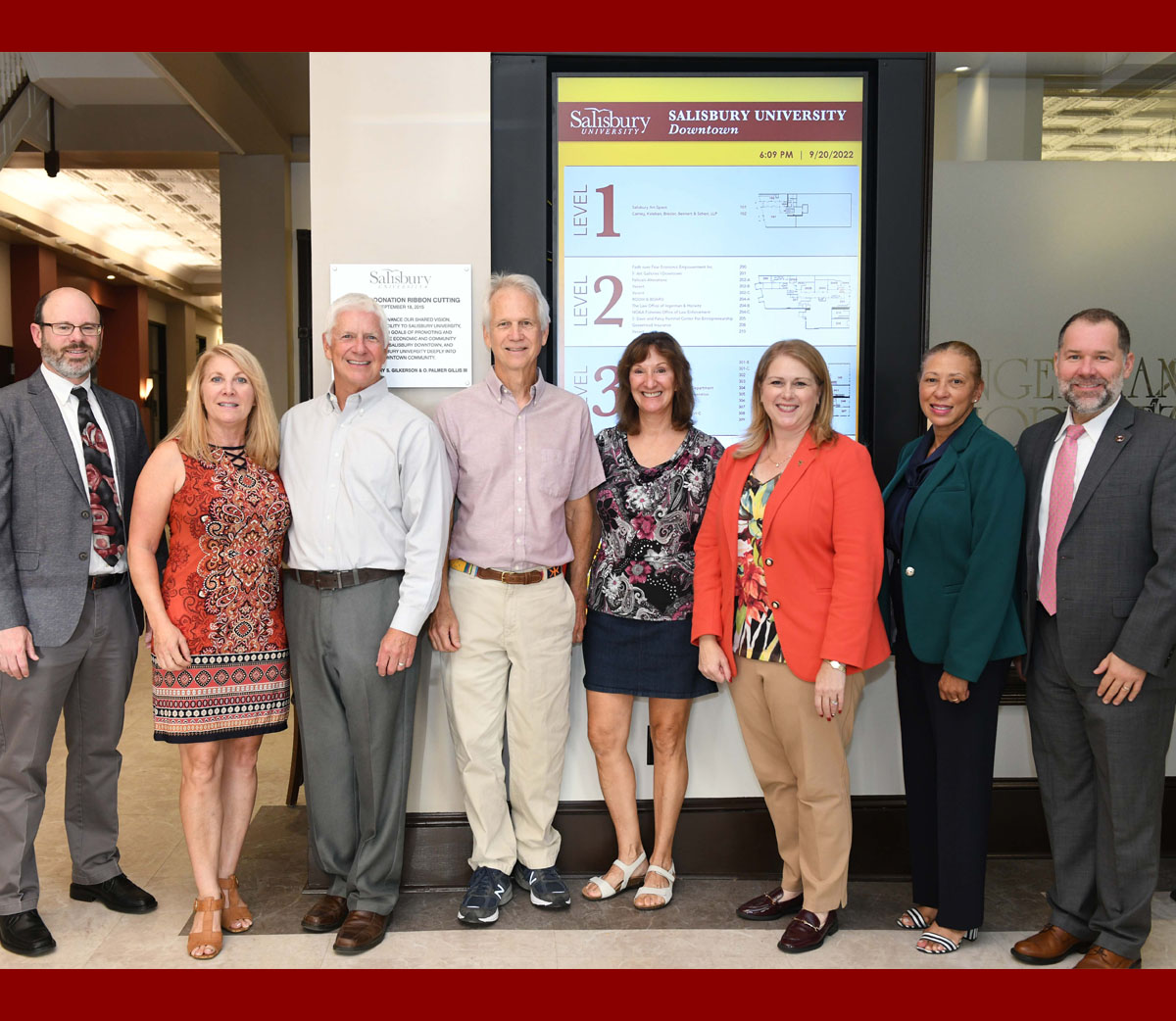 SALISBURY, MD---At Salisbury University's Dave and Patsy Rommel Center for Entrepreneurship, the scent of melted plastic and scorched metal is in the air as budding student entrepreneurs use 3-D printers, computer numerical control (CNC) machines and other high-tech equipment to create product prototypes.
Next door, SU Art Galleries Downtown presents a visual kaleidoscope, featuring colorful, original works by students and visiting artists.
One floor above, at the offices of the Eastern Shore Regional GIS Cooperative, SU students gain valuable experience in geographic information systems (GIS) mapping while working on real-world applications for state and municipal governments. The data they provide will help combat a wide range of issues, from drainage, to erosion, to broadband access.
This is just some of the innovation happening at SU Downtown, Salisbury University's four-story campus in downtown Salisbury. And none of it would have been possible without local developers Palmer Gillis and Tony Gilkerson.
Gillis and Gilkerson donated the $4.4 million structure, formerly known as the Gallery Building, to the SU Foundation, Inc., in 2015, helping to fulfill the University's strategic plan to have a larger downtown presence. SU recently paid tribute to the area business leaders by installing a plaque inside the building to note their philanthropy.
"Palmer Gillis and Tony Gilkerson shared SU's vision of the University's playing a greater part in promoting and providing for the economic and community vitality of downtown Salisbury," said Jason Curtin, SU vice president of University advancement and external affairs, and executive director of the SU Foundation.
"Their gift has not only provided new, immersive opportunities for our students, but also allowed more members of the greater community to experience the warm, friendly environment for which our University is known. This plaque will ensure future generations know how much their generosity has meant to SU."
Learn more about how SU students and faculty are exploring opportunities for greatness and making tomorrow theirs at the SU website.