Eastern Shore Native's Love for Learning and the Bay Honored with Library Service Desk Naming
Wednesday July 27, 2022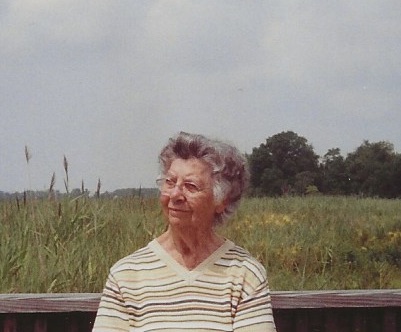 Rena Urie Fowler lived many places in her lifetime – including Rock Hall, MD; Baltimore; and Denver – but her heart belonged to the bay.
Her daughter, Rena K. Fowler, has many treasured memories of her mother. She remembers how she loved the water and all the life around it. In addition to flowers, their home was filled with shells, cattails and shrubbery from Maryland's beaches and waterways. After the family moved to Denver, she continued to bring the life of the bay into the home; she believed the water was where the life is.
One of the most important things Fowler's mother taught her was to be connected to the world, whether it was through her love for animals, the flora of the Eastern Shore, or the value of education.
"My mother shared her experiences and showed me what she thought was important," Fowler said. "She contributed to all of the things that remained important to me as I grew up and led my own life, and I want to celebrate that."
Fowler recently honored those lessons her mother gave her by giving $50,000 to name the Rena Urie Fowler Library Service Desk in Salisbury University's Guerrieri Academic Commons. Previously, she endowed the Rena Urie Fowler Memorial Scholarship for students from Kent County and Queen Anne's County, MD, demonstrating financial need.
Rena Urie was born in Rock Hall, Kent County, MD, in 1918 to a family of watermen. Her relatives built boats, fished and crabbed, sold oysters and made decoys—all work tied to the Chesapeake Bay, where they had lived for generations. As she grew up, she felt the importance of education, not only for a career but for quality of life. However, she struggled to pursue both school and work while raising a family. She passed her love for education on to Fowler, who remembers her mother taking her to the Hamilton Branch of the Enoch Pratt Free Library in Baltimore when she was 6 years old. She later went on to get a Ph.D. and became a librarian – something she feels reflects how her parents instilled a love of learning and community in her.
"I considered making a donation to the college I went to, but I thought it was more appropriate to support a public university, because my mother put such a high value on people being able to go to college," Fowler said.
Before she retired, Fowler would rent a summer home on the Eastern Shore for herself and her parents, visiting Ocean City, the Ward Museum of Wildfowl Art, and later the SU campus.
"I was impressed with SU's library in the various ways it supports students and the campus, like the writing center and research archives," Fowler said. "SU's library is very central to the campus, and that's what I'd like to see a library be."
For more information about supporting SU and the SU Foundation, Inc. in enriching tomorrow for students and the community, visit giving.salisbury.edu.
SHARE