Smithsonian Interns Leaving Their Mark on Nabb Center's 'Enduring Connections' Program
Tuesday July 26, 2022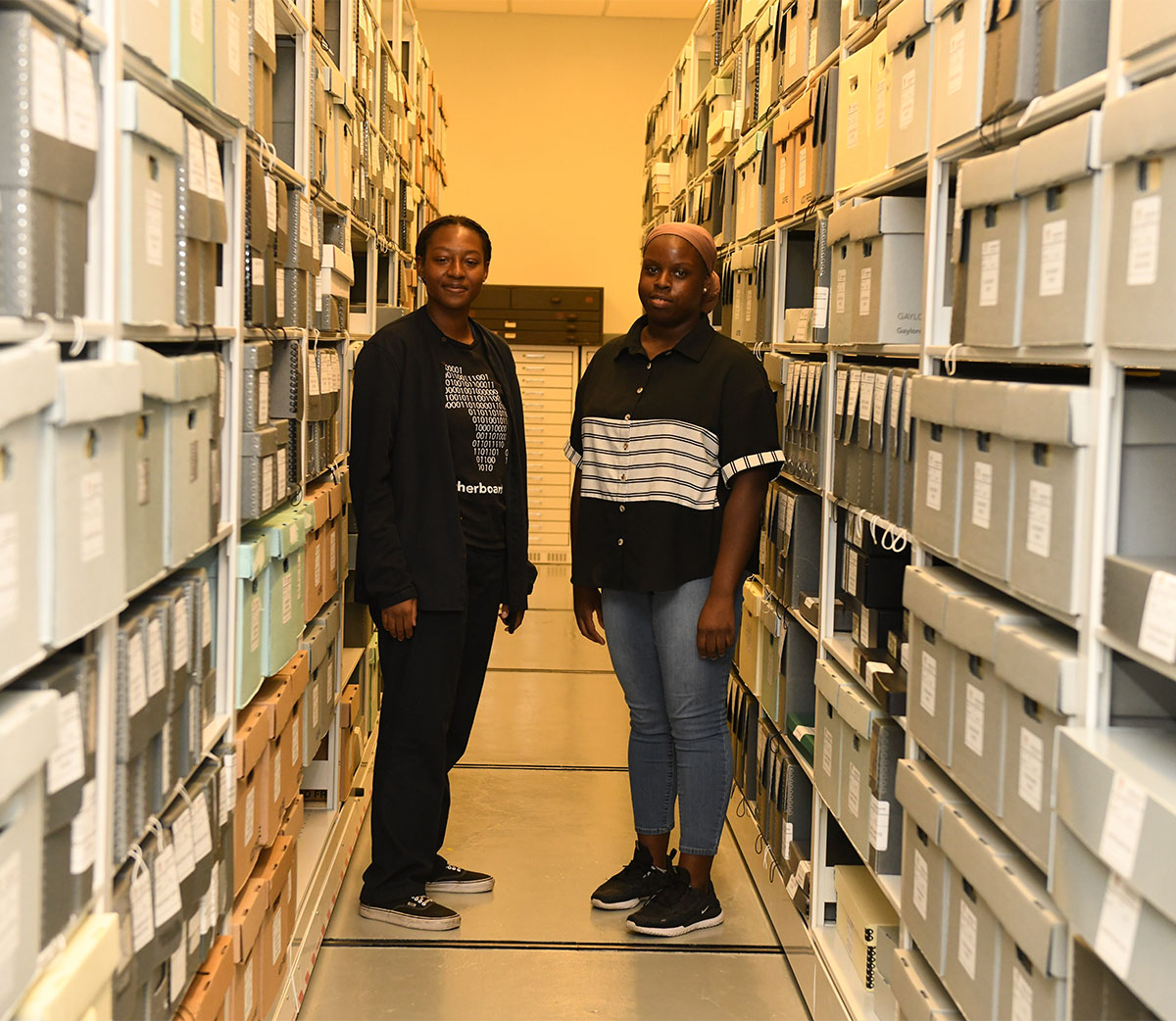 SALISBURY, MD---Salisbury University's Edward H. Nabb Research Center for Delmarva History and Culture's "Enduring Connections: Exploring Delmarva's Black History" initiative is a massive undertaking to make Black history of the Eastern Shore more accessible.
The project has been ongoing for more than two years, with Nabb Center staff, faculty and community volunteers carrying the workload, and is expected to continue for years to come.
This summer, the initiative is getting a boost from two interns, thanks to the Robert F. Smith Internship Program through the National Museum for African American History and Culture. Abdeena Barrie and Asia Bender are working 12 weeks on the project to further enhance the now more than 120,000 records included.
Enduring Connections seeks to compile historical records documenting the lives of Black residents of the lower Delmarva peninsula, particularly the lower counties of Maryland, Sussex County in Delaware and the northern sections of the Eastern Shore of Virginia.
"Enduring Connections is a database about putting Black history of this area at the forefront," said Barrie. "Things that you would never know that Black people were involved in, we're now knowing because of Enduring Connections. As it grows, as people share it and people talk about it, it's going to spread everywhere, and that's the point of archives – to make sure people are aware of these things."
Part of the learning process for Barrie, originally from California, and Bender, from Georgia, was learning exactly what Delmarva was. For Barrie, who comes from a desert town, the greenery, animal life and birds were a welcome change from her home. Bender remarked on a recent trip to the Harriet Tubman Underground Railroad National Historical Park how much the area reminded her of Alabama, where she recently completed the first year of her master's in public administration at Auburn University.
Though the pair was not familiar with the peninsula and its history – they both were aware Harriet Tubman and Frederick Douglas were from Maryland, but little else of the Black history of the area - they quickly learned of the importance of others from the region.
"It's uncovering African American history," said Bender. "Of course we have those big names, but also the people we've never known about. This brings their history and their experience to the forefront. I've been doing a lot of history for certain families, and it's inspired me to look into my ancestors."
The project pulls from sources like U.S. Census reports; certificates of freedom; birth, marriage and death records, and others to create a centralized database that makes it more accessible for academic and genealogical researchers.
"They are working with new sources, which we've identified as having not been added into the database," said Ian Post, SU archivist, who is leading the project. "They then steward that from the beginning to the end product of digitizing it, transcribing it, entering that data into the database and then writing a story about it at the end."
These narratives have been one of the goals of the project since its inception, to show how the information can be humanized.
"I feel like when you bring these stories to light, it just exposes the truth," Barrie said. "These is no U.S.A. without the labor and toil of Black people. More people need to know about it. Black people in the community, especially, need to know that their ancestors did all of this."
As part of the Smith Internship Program, the pair receive a stipend and housing on SU's campus during their internship. They each have a mentor in the field and are connected to other interns in their cohort through boot camp trainings. They also will present as a group at the Association of African American Museums conference in Miami later this year.
Locally, Barrie and Bender are not only learning on the SU campus, but also getting a chance to see sites of historic impact on the Eastern Shore. So far, they have visited the Harriet Tubman Underground Railroad Visitor Center in Church Creek, MD; the Water's Edge Museum in Oxford, MD; and The Nature Conservancy's Brownsville Preserve on Virginia's Eastern Shore.
The benefits for the Nabb Center include having an outside perspective on the ongoing process and two full-time, dedicated students poring over data.
Enduring Connections was one of just nine projects selected for the Smithsonian internships, and the Nabb Center was one of even fewer locations to receive multiple interns.
"It is a validation that what we're doing is important. It's recognized that it has a bigger purpose, and the Smithsonian sees that," said Post.
The Nabb Center already has committed to hosting interns through the same program for summer 2023, with Post hoping to see the sustained partnership expanding to provide opportunities for Enduring Connections going forward.
For more information about Enduring Connections visit the initiative's webpage.
Learn more about how SU students and faculty make tomorrow theirs at the SU website.
SHARE