Announcing SU's Next President Dr. Carolyn Ringer Lepre
Tuesday May 3, 2022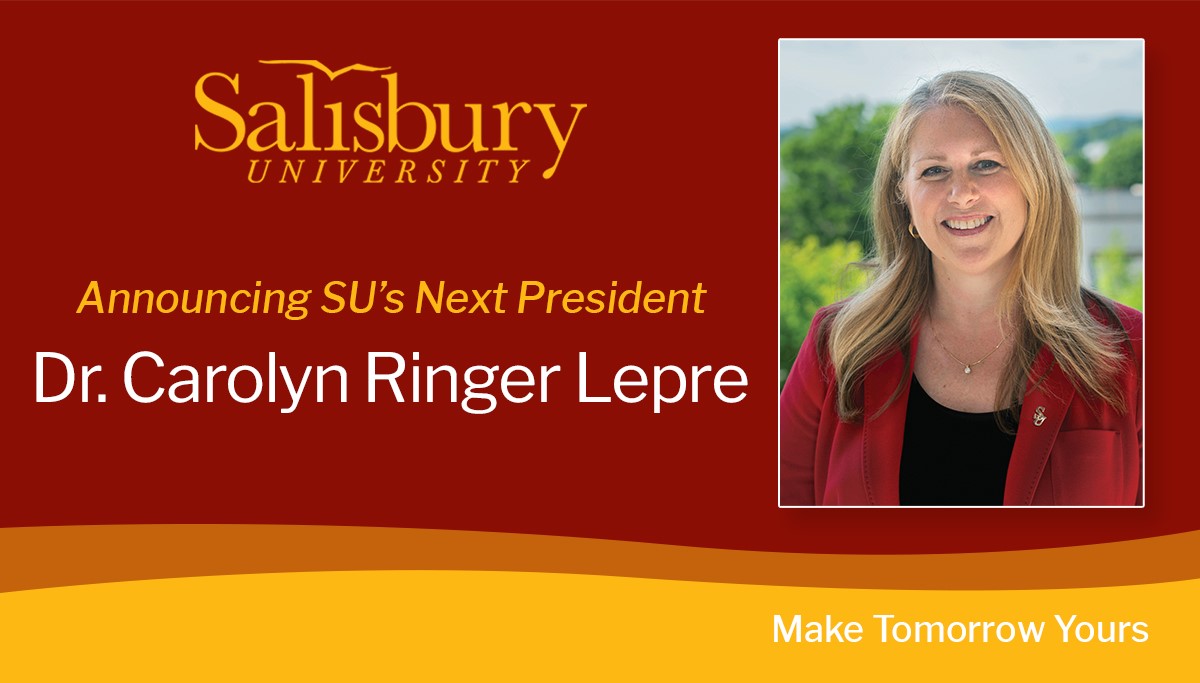 Dear Colleagues:
I'm delighted to announce that the University System of Maryland Board of Regents has named Carolyn Ringer Lepre the next president of Salisbury University (SU). She begins her presidency on July 15.
Dr. Lepre has been interim president of Radford University in Virginia since July 2021, before that serving as the university's provost and vice president for academic affairs. She's eager to build on Salisbury's reputation as a proudly student-centered university, and raise its profile as a regional comprehensive institution that enriches its students and those they serve through rigorous academic programs, a clear focus on learner success, and engaged civic leadership.
As Radford's provost, Dr. Lepre spearheaded several priorities, among them developing new programs in areas of high need, using a range of models to deliver those programs, and targeting them to diverse audiences. The university debuted three fast-track online programs last year geared toward working adults—RN-to-BSN, MSN, and MBA—and unveiled an innovative general education curriculum that gives students more control over their coursework and cultivates individualized pathways to degree completion.
Working with her academic affairs team and with the Radford faculty, Dr. Lepre launched the Academic Success Center, a hub where students can go to work with academic advisors, faculty mentors, and success coaches, and connect with one another through education and social programming. Under her leadership, Radford established a stand-alone School of Nursing; partnered with the Appalachian School of Law to create dual-degree programs; began a bridge program with New River Community College; launched the Center for Opportunity and Social Mobility for first-generation students; and guaranteed an experiential learning opportunity for every Radford student—what the university calls the "Highlander Promise."
Before arriving at Radford, Dr. Lepre served for eight years at Marist College in New York, holding a host of academic and administrative positions, culminating with her deanship of the School of Communication and the Arts. At Marist, Dr. Lepre developed a new college-wide Honors Program, created a living-learning community, revised the Communication major—Marist's largest degree program—and developed several new academic programs, some in conjunction with international partners.
Dr. Lepre's values align closely with those of Salisbury University. She says that when a university's goal is "holistic education"—to develop students intellectually, socially, and civically—diversity and inclusivity are essential. She believes that aligning institutional and individual goals is key to student, faculty, and staff development, and that investing time and energy in mentoring yields not only long-term success but the inclusive community of ideas that we strive for in the academy.
Dr. Lepre says that standing still is going backward. And as Salisbury looks forward to its centennial celebration in 2025, she's eager to lay the foundation for SU's next 100 years. Dr. Lepre will draw on her enormous fundraising success to fortify the university's future—grow the endowment, expand scholarships, promote academic excellence, support the athletic experience, and strengthen student achievement.
Without question, it's an exciting time for SU. The university's national profile is rising; its excellence and value are being recognized on the national stage. And so I'm delighted to welcome Dr. Lepre not only to Salisbury but to the USM, and I look forward to watching her build on President Wight's legacy. It certainly is an impressive one: Dr. Wight has been able to sustain Salisbury's quality and prominence at the same time that he focused on opening access—at the same time that he expanded SU's academic programs. That speaks to his leadership, to his wisdom, and to his character. I know we're all thrilled that Chuck will remain at SU when his presidency ends.
I thank all the members of the search committee, led by USM Regent Bob Rauch, for their hard work in selecting such a worthy candidate in Dr. Lepre. An announcement regarding Dr. Lepre's appointment will be released shortly and will be available at the USM Newsroom.
I know you all join me in welcoming Dr. Carolyn Ringer Lepre to her new and exciting role at Salisbury University.
Sincerely,

Jay A. Perman
Chancellor
University System of Maryland
SHARE