SU's Fulton School Co-Sponsors Sister Cities Celebration of Salisbury Cathedral May 25-27
Friday May 20, 2022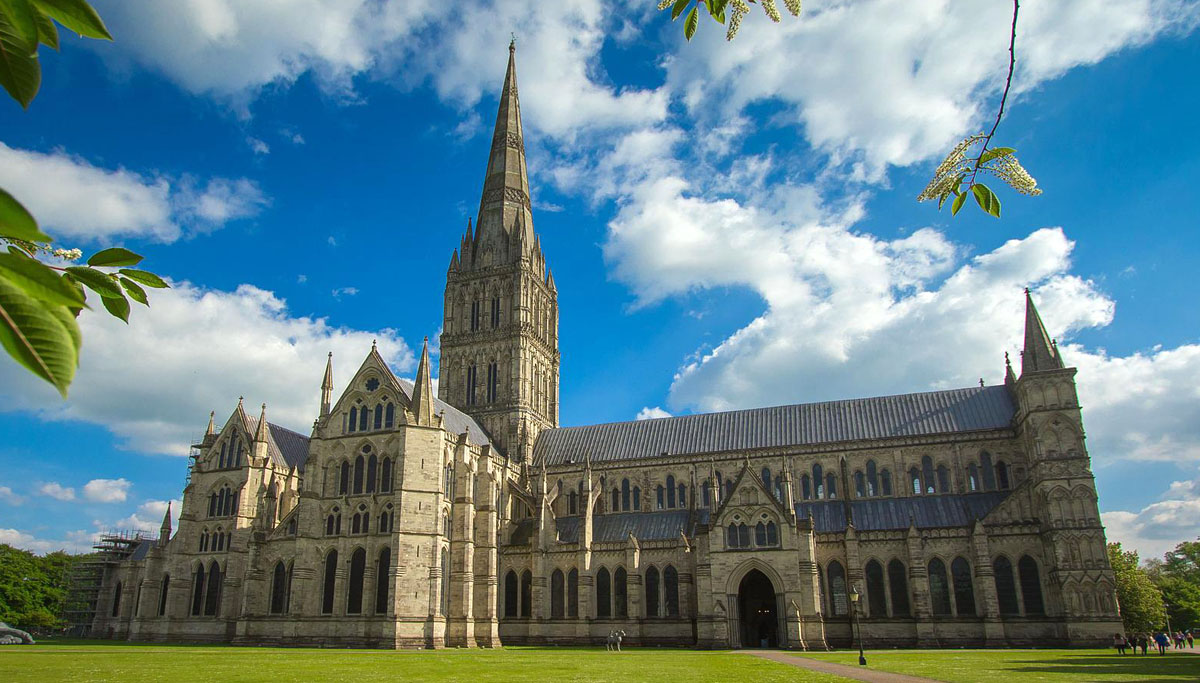 SALISBURY, MD---Of some 300 workmen who built the famed Salisbury Cathedral in the 13th century, less than a handful could read and write, said Gerry Wood. Most lived in hovels where they couldn't stand without stooping, he added.
Yet these 300, in 38 years, built one of the world's architectural marvels – most medieval cathedrals took centuries. Its spire, completed in 1320, is the tallest in the United Kingdom, and at 404 feet, nearly three times the height of the Brown and Church Carillon at Salisbury University's Patricia R. Guerrieri Academic Commons.
"Now Salisbury Cathedral is marking its 800th anniversary" Wood said, "and we're having a community celebration Wednesday through Friday, May 25-27, to honor it."
He is event chair and officer in the Salisbury Sister Cities Association, which links the old and new world communities. Event sponsors include SU's Charles R. and Martha N. Fulton School of Liberal Arts.
On Wednesday, May 25, at 10 a.m., Dr. G. Ray Thompson, SU professor emeritus of history and co-founder of the University's Edward H. Nabb Research Center for Delmarva History and Culture, talks about the two sister cities in "A Tale of Two Salisburys" at the MAC Inc. Senior Center, 909 Progress Circle.
At. 7 p.m., Salisbury Cathedral Director of Music David Halls offers a virtual organ recital performed on the famed Willis Organ in the cathedral, airing at St. Peter's Episcopal Church, 115 Saint Peter's St. (Halls had planned to perform here live "until Covid interfered," said Wood.)
Thursday, May 26, is Ascension Day in the Anglican Communion and the cathedral holds religious celebrations. At 7 p.m. a cathedral-like religious service marking Ascension Day also will be held at St. Peter's. An original anthem, "Eternal Monarch," composed by Halls, will have its world premiere.
Friday, May 27, at 7 p.m. a community program celebrates the cathedral with the Salisbury Children's Choir; the Community Choir singing an anthem by John Rutter, "This is the Day," composed for the wedding of Prince William and Kate Middleton; a presentation by SU President Charles Wight about the Magna Carta, revered on both sides of the Atlantic as a symbol of freedom from oppression (the best copy is in the cathedral); a large multimedia presentation about the cathedral; and more.
"Join in celebrating this wonderful milestone," said Wood. "Sister Cities focuses our attention on a wider world, one in which we can create lasting friendships through cultural understanding, express empathy, and feel connected."
For more information visit the Salisbury Sister Cities website.
This salute is made possible through St. Peter's Episcopal Church and the American Guild of Organists, Salisbury Chapter. Additional sponsors include the Community Foundation of the Eastern Shore, Richard A. Henson Foundation, Salisbury-Wicomico Arts Council and City of Salisbury.
Learn more about how SU students and faculty are exploring opportunities for greatness and making tomorrow theirs at the SU website.
SHARE