SU MASMI, Men's Lacrosse Team Raise More Than $8,000 for Leukemia and Lymphoma Society
Monday May 2, 2022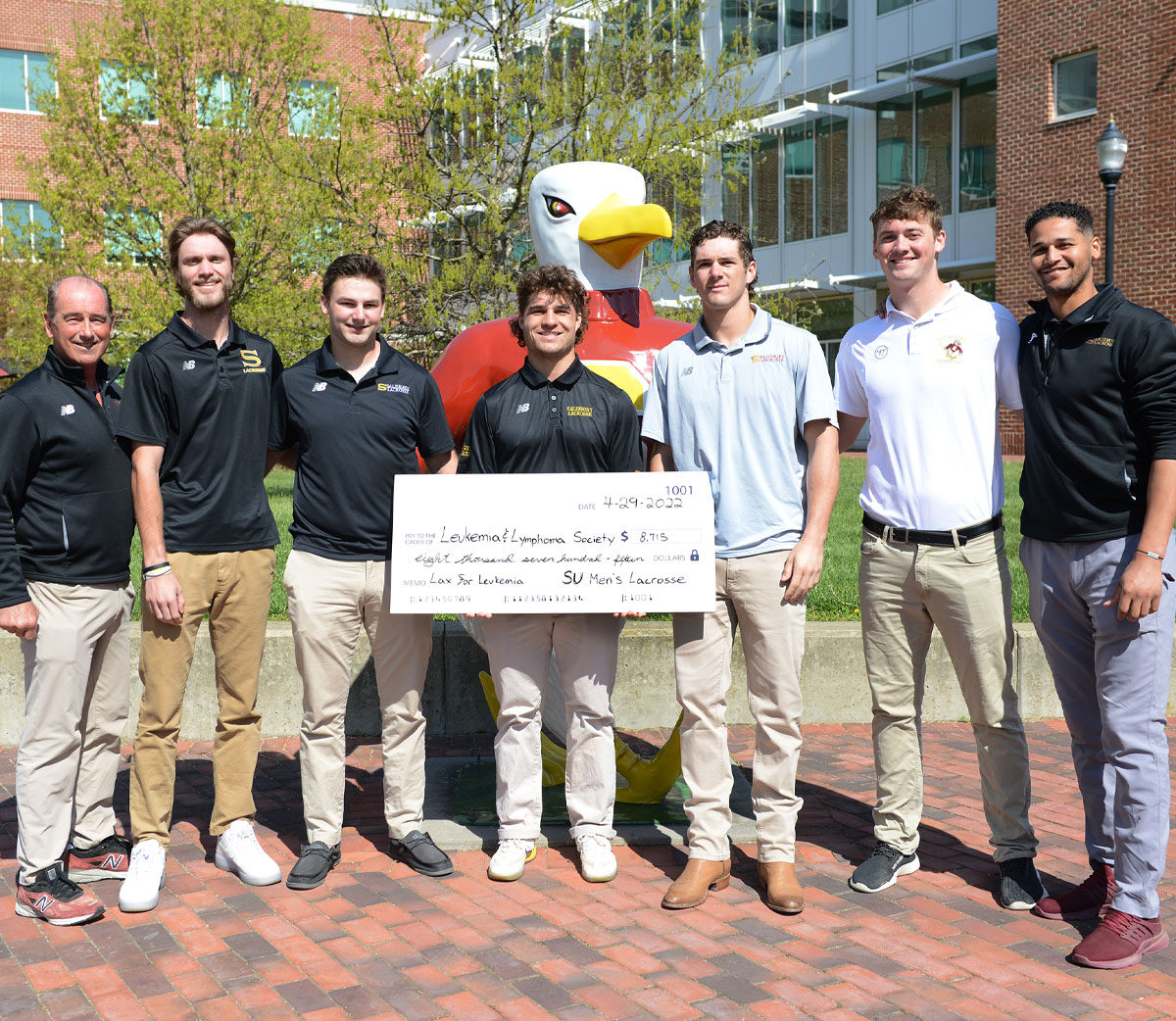 SALISBURY, MD---The Salisbury University men's lacrosse team recently worked with SU's Mid-Atlantic Sales and Marketing Institute (MASMI) in the Franklin P. Perdue School of Business to raise some $8,715 for the Leukemia and Lymphoma Society during the team's annual LAX for Leukemia event.
Efforts included a silent auction during the team's annual "War on the Shore" game vs. rival Washington College. Working with men's lacrosse graduate assistant Aaron Leeds, MASMI ambassadors developed a script for soliciting auction items from local businesses and monetary contributions from team sponsors. They then identified potential new donors and reached out to them for donations.
In addition, under the leadership of Dr. Gustavo Schneider, SU assistant professor of marketing, MASMI ambassadors created a page for the event on popular crowdsourcing website GoFundMe.com, making it easier for supporters to donate online, and organized a "dine and donate" event with a local restaurant, through which 10% of the day's proceeds benefited the initiative.
Other fundraisers during the weekend included a golf tournament for SU alumni and supporters.
"Lax for Leukemia has been a strong tradition with the men's lacrosse program since 2010 when I discovered one of our players was diagnosed with the terrible illness," said longtime SU head men's lacrosse coach Jim Berkman. "I'm extremely pleased with the effort from our team, our campus and local community that continue to raise funds and awareness and exceed our goals each year."
"This was a great collaboration between MASMI students and SU Athletics," said Dr. Amit Poddar, MASMI director and incoming Marketing Department chair. "We hope to continue the partnership with SU Athletics as we roll out our Sports Marketing class in fall 2022, taught by Dr. Schneider."
For more information about MASMI, visit the institute's webpage. For more information about men's lacrosse at SU, visit the SU Athletics webpage.
Learn more about how SU students and faculty are exploring opportunities for greatness and making tomorrow theirs at the SU website.