SU's Fulton School Announces Faculty, Staff Awards
Friday May 13, 2022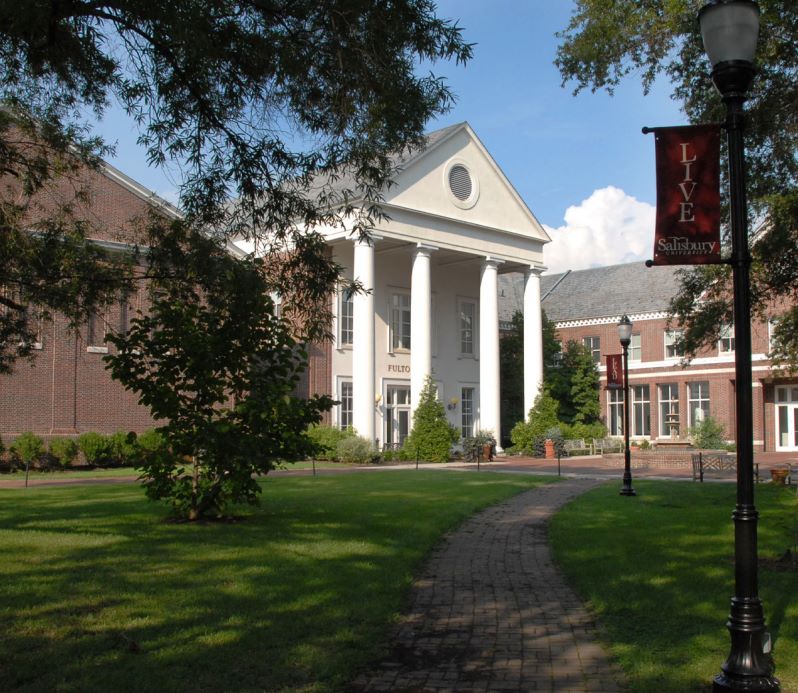 SALISBURY, MD---Salisbury University's Charles R. and Martha N. Fulton School of Liberal Arts recently honored 11 faculty and staff members with its annual Fulton School awards.
Winners are:
Dr. Rhyannon Bemis (Psychology): Civic Engagement Award – Bemis coordinated two sensory-friendly events, with COVID-19 restrictions in place, at Salisbury Zoological Park. SU students were involved in the events, giving them hands-on experience with children with sensory sensitivities while also serving the greater community.
Dr. Charisse Chappell (Psychology): Service to Fulton School Award – Serving as the internship coordinator for the Psychology Department, Chappell oversees all details of the program and its students. She also serves as the chair of the Psychology Diversity Committee, which helps coordinates faculty requests to have their course designated as a diversity course.
Colleen Clark (Music, Theatre and Dance): Chairperson Award – Leading a department that returned to in-person events as COVID-19 restrictions began being lifted, Clark often looked for ways to improve the department and its productions. She opted to continue livestreaming cultural events and sought ways to improve the streams while finding ways for students to assist in the process, helping them expand their skills while continuing to put forth a top-notch product.
Jinchul Kim (Art): Teaching Award – In the Art Department, the painting discipline often sees a high enrollment, and Kim's presence is likely a major impact. He cares about his students, and their quality of work is a testament to his dedication. During sabbatical this year, he curated a solo exhibition for SU Art Galleries Downtown, which showcased the high quality of his craft.
Dr. Carolyne King (English): Advising Award – As the director of first-year writing, King works closely with teaching assistants to mentor and support their teaching. Her tutelage involves extensive professional development, including monthly workshops and mentoring students for conference presentations.
Dr. Michèle Schlehofer (Psychology): Scholarship Award – This year, Schlehofer totaled seven manuscripts accepted for publication, including five in peer-reviewed journals and two book chapters, to go with four others currently under review. This year she also submitted three grant proposals. She also gave nine presentations, including a webinar, a workshop and two poster presentations.
Drs. Rachel Steele and Michèle Schlehofer (Psychology): International Education Award – Schlehofer and Steele co-taught the "Selected Topics in Psychology course: Caste in India and the U.S." with students from SU and from Pandit Deendayal Energy University (PDEU) in Gandhinagar, India. They facilitated intercultural dialogue between 15 students at SU and 18 at PDEU. This course was the department's first foray into international teaching and opened the door for continued collaboration with PDEU.
Shawn Stone (Music, Theatre and Dance): Administrative Award – "Normal" work hours do not exist for Stone, who has played a key role in the department's productions in her first year at SU, coordinating and often jumping in hands-on to assist with Box Office staff. This year, she took over the department's social media accounts, increasing activity and responsiveness to drive attendance at events.
Nancy Talbott (Sociology and Political Science): Administrative Award – Working directly with two new department chairs, Talbott ensured a smooth transition while assisting with programming, advertising new events and courses, and establishing connections with Fulton School students. The manager of the Safe Space program, Talbott coordinates workshop logistics and fees with agencies and organizations, supervises interns, handles scheduling and more.
Dr. Beth Towle (English): Curricular Innovation Award – Towle recently reimagined multiple courses in the English Department, including updating "Writing Across Disciplines" to "Topics in Professional Writing," which quickly filled with a waiting list for her grant-writing course. The changes she has implemented fill the needs of students.
Dr. Isabel Quintana Wulf (English): Research Mentoring Award – Wulf works regularly with undergraduate students in a mentor role, assisting with independent projects, as well as being the advisor for all English master's students. Wulf has mentored M.A. student Andrew Russell as he prepares for the application process for doctoral programs. She also has worked with Russell on his thesis and is mentoring him through his practicum, through which he assists in teaching Wulf's "Introduction to Multi-Ethnic U.S. Literatures" course.
For more information call 410-543-6450.
Learn more about how SU students and faculty are exploring opportunities for greatness and making tomorrow theirs at the SU website.
SHARE