Second National Shore Sales Challenge Winners Announced
Wednesday April 6, 2022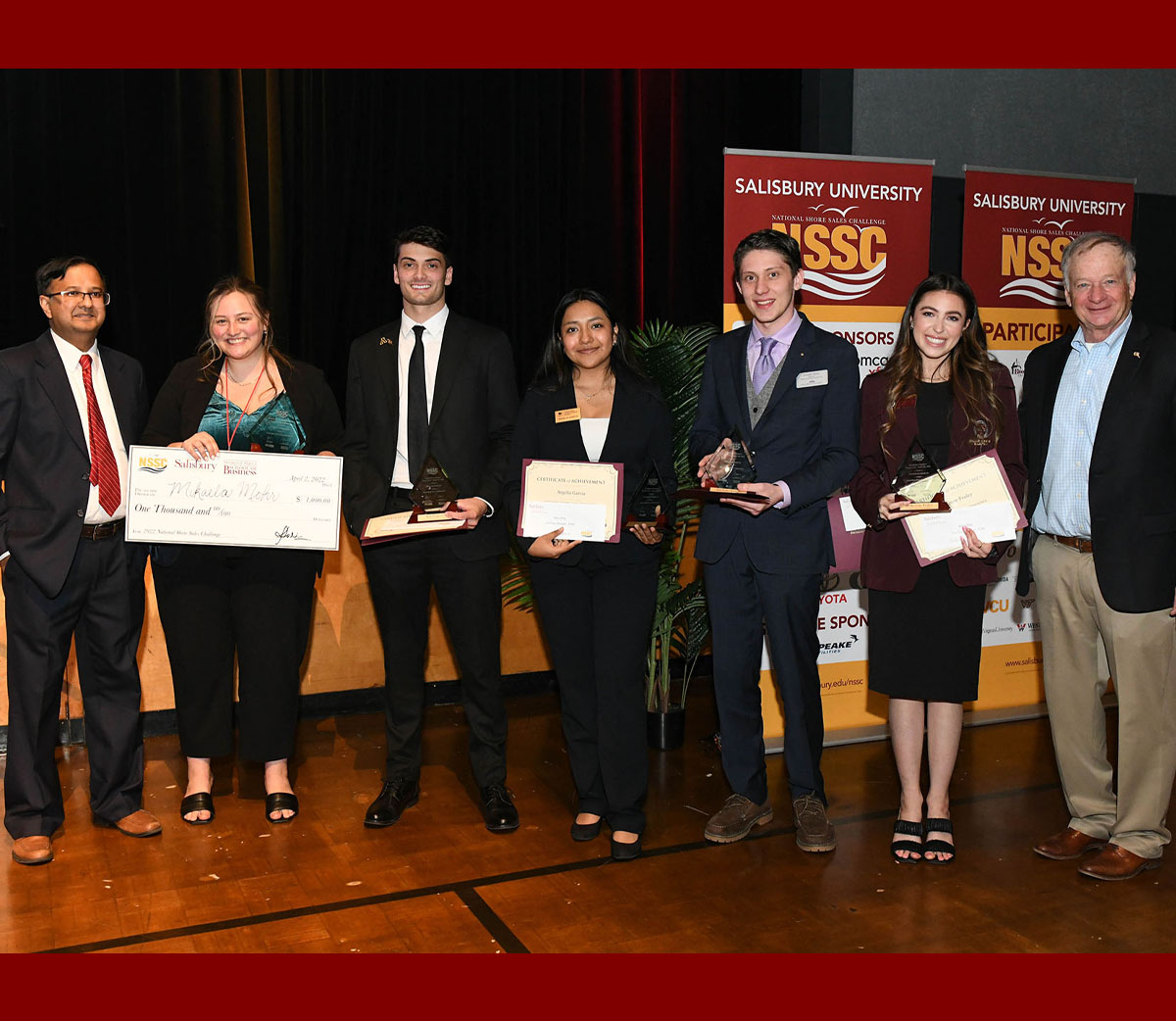 SALISBURY, MD---Some 133 students from 36 colleges and universities in the U.S. and beyond recently competed in the first in-person National Shore Sales Challenge (NSSC), hosted by Salisbury University's Mid-Atlantic Sales and Marketing Institute (MASMI), presented by Perdue Farms.
Students competed in sales role play and speed selling challenges, pitching themselves to judges, representing the event's sponsors and others, on the topic "Why I am the best person for the job."
Mikaela Mohr of Winona State University was the overall champion in the role play category, winning $1,000. Sam Gagnon of Appalachian State University placed second, earning $750.
The third-place winner ($500) was Argelia Garcia of the University of Central Florida, followed by Zachary Amigo of High Point University in fourth ($250) and McKenzie Fraley of Florida State University in fifth ($100).
For the second consecutive year, Ty Lewis of St. Ambrose University was the overall champion in the speed selling category, earning $300. Logan Massengill of the University of North Carolina Wilmington placed second, winning $200. Andrew Marino of Utah State University placed third, receiving a $100 prize.
Coaches of the top-placing teams also were honored. Marianne Collins, coach of the Winona State University team, placed first in the Top Team category, winning $750. Madison McClure, coach of the Florida State University team, placed second ($500), and John Byrne, coach of the St. Ambrose University team, placed third ($250).
Rounding out the top 10 teams were the University of North Carolina Wilmington, Appalachian State University, SU, Metropolitan State University, Utah State University, High Point University and the University of Wisconsin-Parkside.
Perdue Farms served as the competition's product sponsor. Choptank Transport of Preston, MD, was the platinum sponsor. Salesforce.com was the gold sponsor. Silver sponsors included APPI Energy, Comcast Xfinity, Cvent, Enterprise Holdings, Gartner, memoryBlue, Orkin, Sherwin-Williams, Stanley Black & Decker, Sazerac, Sunbelt Rentals, Sunrun, Tom James, Total Plastics Internationals, Toyota and United Rentals.
For more information call 410-543-6030 or visit the NSSC webpage.