Scholarship Endowment Honors Legacy of Longtime Music Professor Jessie Fleming
Wednesday April 6, 2022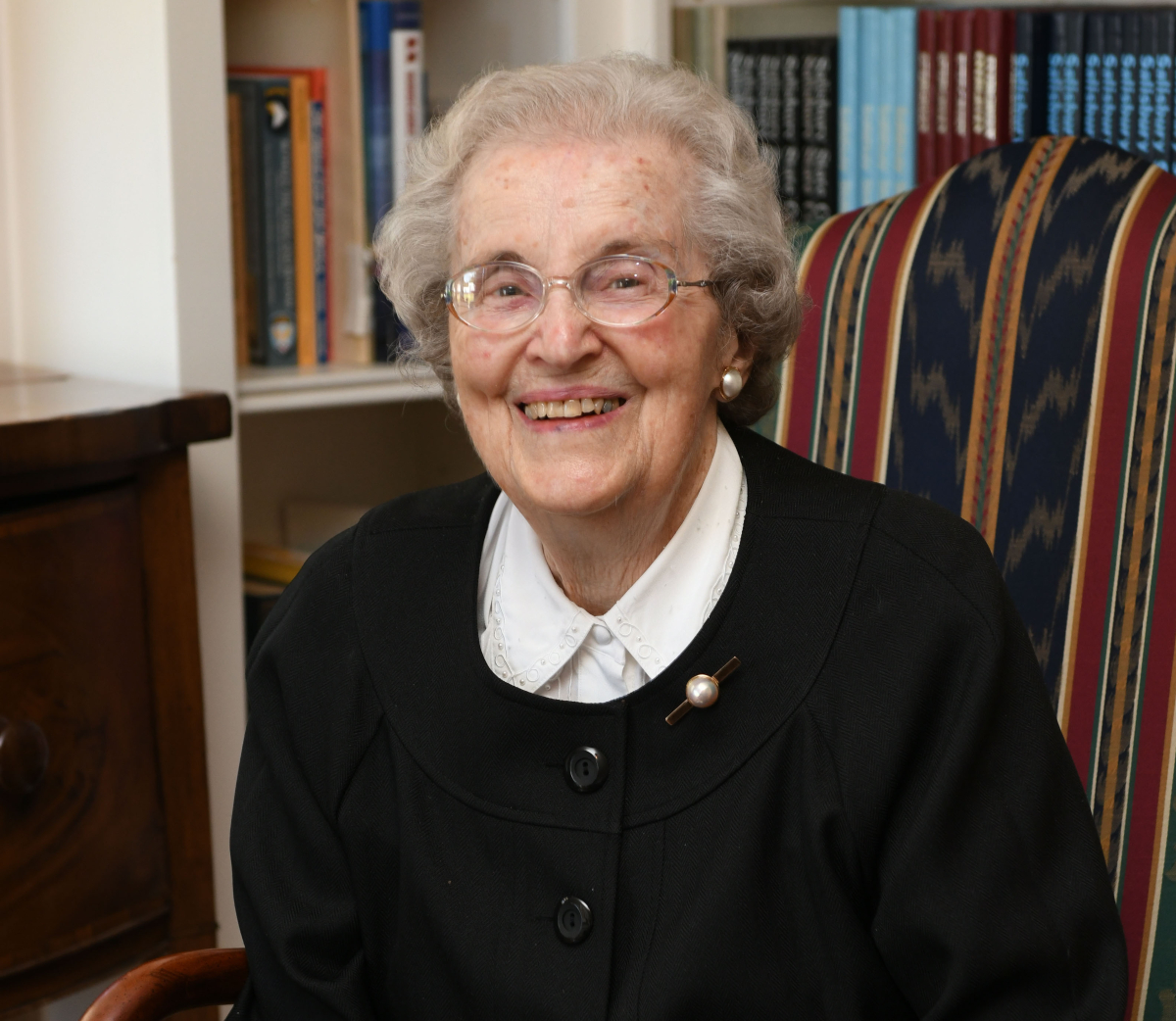 It has been nearly 30 years since Dr. Jessie Fleming last set foot on Salisbury University's campus.
Yet, her influence has remained. Her former students still speak fondly of her as a mentor who inspired and challenged them. She was fundamental in growing the music program at SU, as its sole faculty member and later department chair for many years. When she retired in 1993 after 45 years of teaching, she was one of the longest tenured professors in the entire University of Maryland school system.
Now, Fleming's legacy will continue to help music majors at SU realize their futures. One of her former students anonymously gave $62,500 to endow a scholarship in her name . The scholarship will award $2,500 annually to students in the Music Program .
"I was delighted to hear about it," Fleming said. "I look back and all of a sudden 20 or 30 years have gone by – but the time I spent with each student was very special."
When Dr. Fleming came from her home state of New York to join what was then Salisbury State Teachers College in 1948, the faculty totaled 22. Thirty-nine students graduated that year.
In 1988, the school was renamed Salisbury State University. The Music Department, with Fleming as its chair, grew to seven full-time and several part-time professors. When she retired, the total faculty numbered 236 people, and 988 graduates received degrees. Many people speak highly of Fleming as being the driving force that allowed the music program to grow into what it is today.
"She was the heart of the college," said Gary White '58, one of Fleming's former students. "She not only taught the students, she in many cases became a part of their life."
White remembers having Fleming as a professor in the 1950s. He said while their brands of music were entirely different, she had an appreciation for all types of music and for every student in her class. He would even bring in some of his jazz records for her to play in class – and often times, she knew more about them than he did.
Fleming was known for being stern and challenging her students, but also inspiring the best in them and being willing to give them a second chance.
When he was a student at Salisbury State Teachers College, Tom Wimbrow '61 joined Fleming's choir as a freshman. At the time, Fleming was the only music faculty. His wife-to-be Betty was also in Fleming's choir, and they sang at special events such as convocations and holiday celebrations.
It wasn't until he was a senior that Wimbrow had Fleming as a professor, when he took her music fundamentals course to finish his requirements for his degree.
"I liked to sing, but I didn't know the first thing about music," Wimbrow said. "I was absolutely miserable at it."
In order to pass the course, students were required to complete a performance. Fleming assigned Wimbrow to play "Red River Valley" on the autoharp – and he said a crowd used to gather at his dorm room door to watch while he struggled through it. But despite her frustrations with his final performance, Fleming gave Wimbrow another chance: She allowed him to sing. He passed the class, graduated and shortly after started his career.
"I joke with her that she was the only reason I was able to become a teacher," Wimbrow said. "She was a big part of the best four years of my life."
In the community, Fleming also helped foster music appreciation in Salisbury churches and Wicomico County public schools. She assisted in the founding of the Salisbury Community Singers and conducted the College Chorus for 30 years. Many of her former students say that even 70 years ago, she had a way of being passionate in her work and honest in her relationships that made everyone around her love her.
White still maintains a relationship with Fleming – one in which he brings her sweet potato pies, pepper relish and mincemeat, and chats with her about music and life. He said to this day, she feels the same as when he met her as a student.
"She's just a wonderful person," White said. "I am fortunate to get to know her in my older age, and I hope this scholarship keeps the memory of her on campus for a long time to come."
Learn more about how to support We Are SU: The Campaign for Salisbury University.
Learn more about how SU students and faculty are exploring opportunities for greatness and making tomorrow theirs at the SU website.
SHARE