Scholarships from Local Veterans Group Continue to Support Nursing Students
Thursday November 10, 2022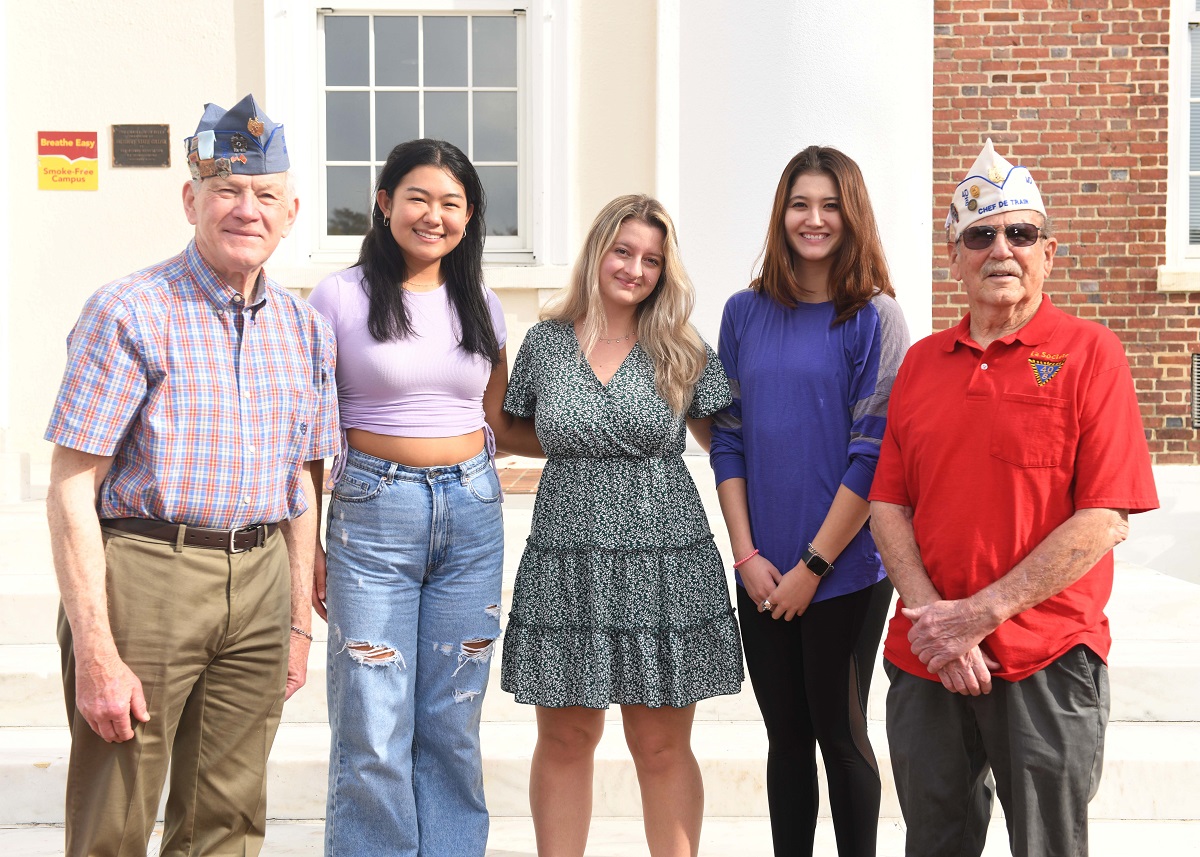 SALISBURY, MD---Alanna Imes, Alisa Suh and Casia Veeck all chose to pursue a career in nursing for a very simple reason: They wanted to help people.
Thanks to a scholarship from a local veterans group, the three seniors in Salisbury University's Nursing Program will take one step closer to that future.
"My grandma was a nurse, so I understand the great impact nurses have," Veeck said. "Like many who choose this profession, I love caring for other people and I want to make the world a better place."
As veterans, the members of Voiture Locale #122 believe strongly in the impact of nurses. Every year, the group provides training scholarships for nursing students at SU – a tradition that goes back to World War I, when the United States faced a shortage of nurses, much like today.
During a meet and greet, the scholarship recipients spoke to members of the veterans group, who recognized the importance of their roles as future nurses and presented them with pins. Each student received a $700 award, which may be renewable for a second year; Imes received the award last year as well.
Imes chose SU for its second-degree nursing program, so she could become a nurse while also pursuing her passion for music. She knew she wanted to be a nurse when she was 16 years old, when she had spinal fusion surgery and spent a long week in the hospital recovering.
"The people who were always caring for me and making sure I was comfortable were the nurses," Imes said. "It was then I realized that this is my calling."
To qualify for the scholarship, students must be admitted into SU's nursing program or working to obtain a bachelor's in nursing, demonstrate financial need, have strong academic standing, and participate in community service and activities.
"It means so much to receive this scholarship," Suh said. "There's a lot of pressure that comes with school. We're in our final year, so on top of our studies there's the pressure of jobs, graduation, figuring out what we want to do in the world, finances, bills and groceries. Having something to lift that burden is a huge help."
Voiture Locale members have continued to support SU's Nursing Program each year. Since 2016, there have been 13 recipients of the Voiture Locale #122 Nurses Training Scholarship, totaling $12,600 given to support future nurses.
Voiture Locale members say it's easy for them to continue to donate.
"After World War I and World War II, our country was experiencing a shortage of nurses, so The Forty and Eight proposed a nurses training initiative to close that gap with scholarships," said Voiture Locale member John Iwanski. "We understand the importance of nurses in our military and community, and we're more than happy to support SU nursing students."
The three students are set to graduate next spring and are eager to start their careers in nursing. Throughout her time in the program, Suh has found many reasons to love the profession. As a nurse, she has the opportunity to work with people of all different ages, backgrounds and needs. She's excited about how many options there are for her to take her degree into different areas of health care.
"SU's Nursing Program has prepared me for the pressure I will someday face in a clinical setting," Suh said. "Every day will be different, and there will be days where everything comes at you all at once. But I knew of the reputation of the program here when I chose SU, and now I feel ready."
For more information about scholarships and endowments, contact Amy Waters at ahwaters@salisbury.edu.