SU Volunteer Center Provides Students with New Opportunities to Assist the Community
Thursday October 6, 2022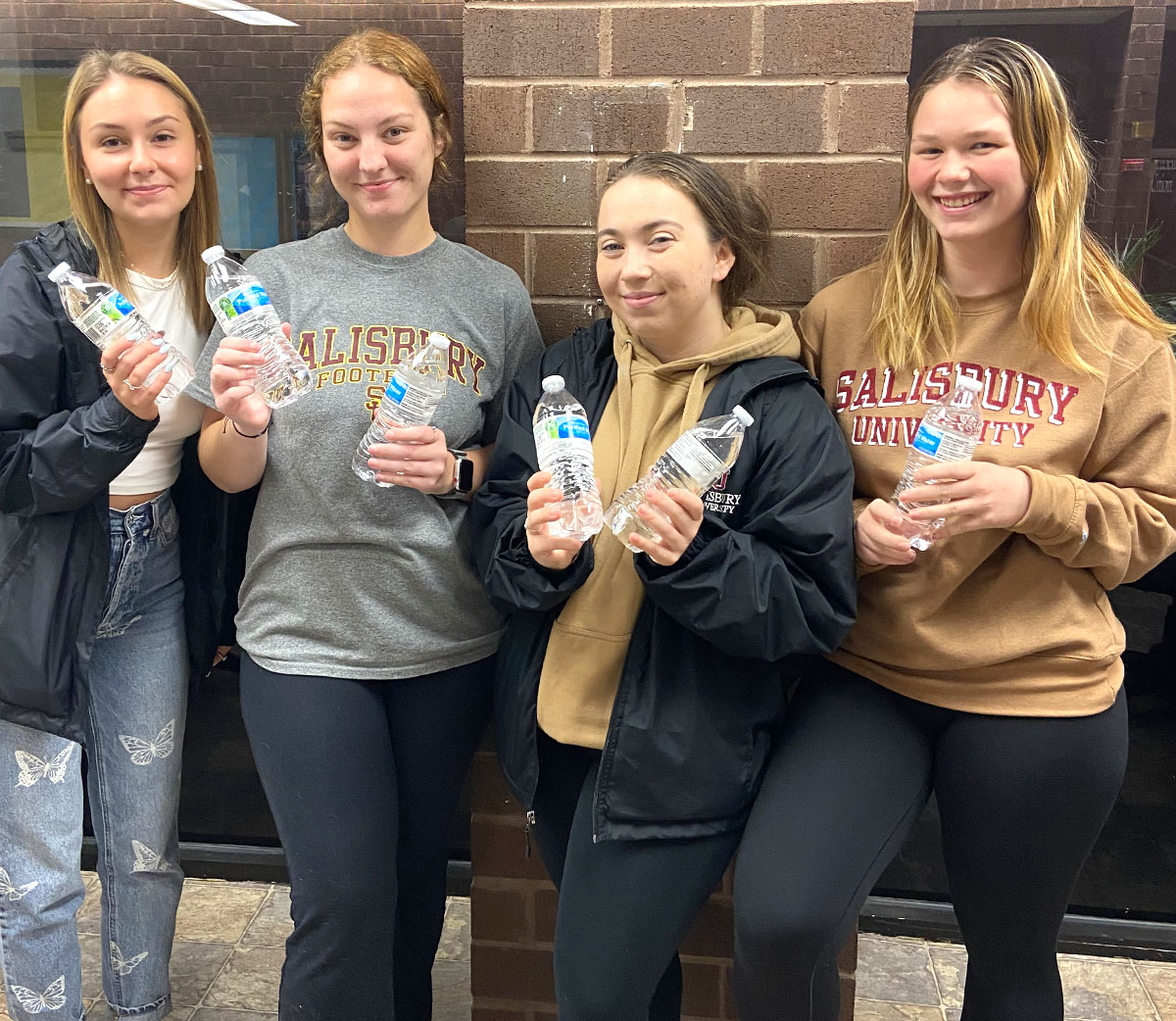 SALISBURY, MD---At Salisbury University's Sea Gull Stadium, Maggs Physical Activities Center and other complexes on and off campus, varsity student-athletes compete against some of the nation's most powerful Division III teams to win division and national titles.
This September, SU's student organizations vied against each other in a much different competition — and this time, the residents of Jackson, MS, were the winners.
Responding to a challenge from the Rev. G. Mandel Copeland, founder of the 50KSouls outreach ministry and uncle of SU alumnus and American Idol top seven contestant Jeremiah "Jay" Copeland '20, SU organizations competed to see which could donate the most bottled water in one week to benefit the ministry's "Joining with Jackson" project.
While the contest was a friendly one, with only bragging rights at stake, students took it seriously. They brought in some 70 cases — more than 1,700 bottles — to benefit residents of Jackson, which faced a potable water crisis in August when flooding damaged one water treatment plant as pumps at another malfunctioned.
Copeland then delivered those cases, along with additional water collected by community organizations, to the Mississippi capital.
At SU, the Girls on Top of the World service organization donated the most water, with nine cases. Its members will receive reusable water bottles to commemorate their contributions.
The drive coincided with the return of the SU Volunteer Center, established in 2010 to help connect University students with area non-profits in need of assistance. Though the center largely has been inactive since the onset of COVID-19 in spring 2020, organizers hope the water drive was just the first step in reactivating the initiative.
"The Volunteer Center is an 'immediate action space' where students who are looking to volunteer, but do not have the resources or time to travel off campus, can come and work on projects to benefit the community," said Amanda Clem, SU coordinator of student life.
In addition to on-campus projects, such as preparing no-sew blankets for area homeless shelters, cards for St. Jude's Children's Hospital and care packages for U.S. military members serving overseas, the center is partnering with area non-profits to provide off-campus volunteer opportunities. SU will offer students transportation to and from campus for projects at the Humane Society of Wicomico County, Pemberton Historical Park and the Wicomico County Public Library, among others.
Non-profits seeking student assistance may contact the center to be included in upcoming campus emails. Some 20 off-campus organizations also recently participated in a service fair, allowing students to learn more about volunteer opportunities offered.
For more information on the SU Volunteer Center, visit its webpage.
Learn more about SU and opportunities to Make Tomorrow Yours at the SU website.