SU Marketing Students Earn Hands-On Experience Through Cancer Research Fundraising Initiative
Wednesday October 26, 2022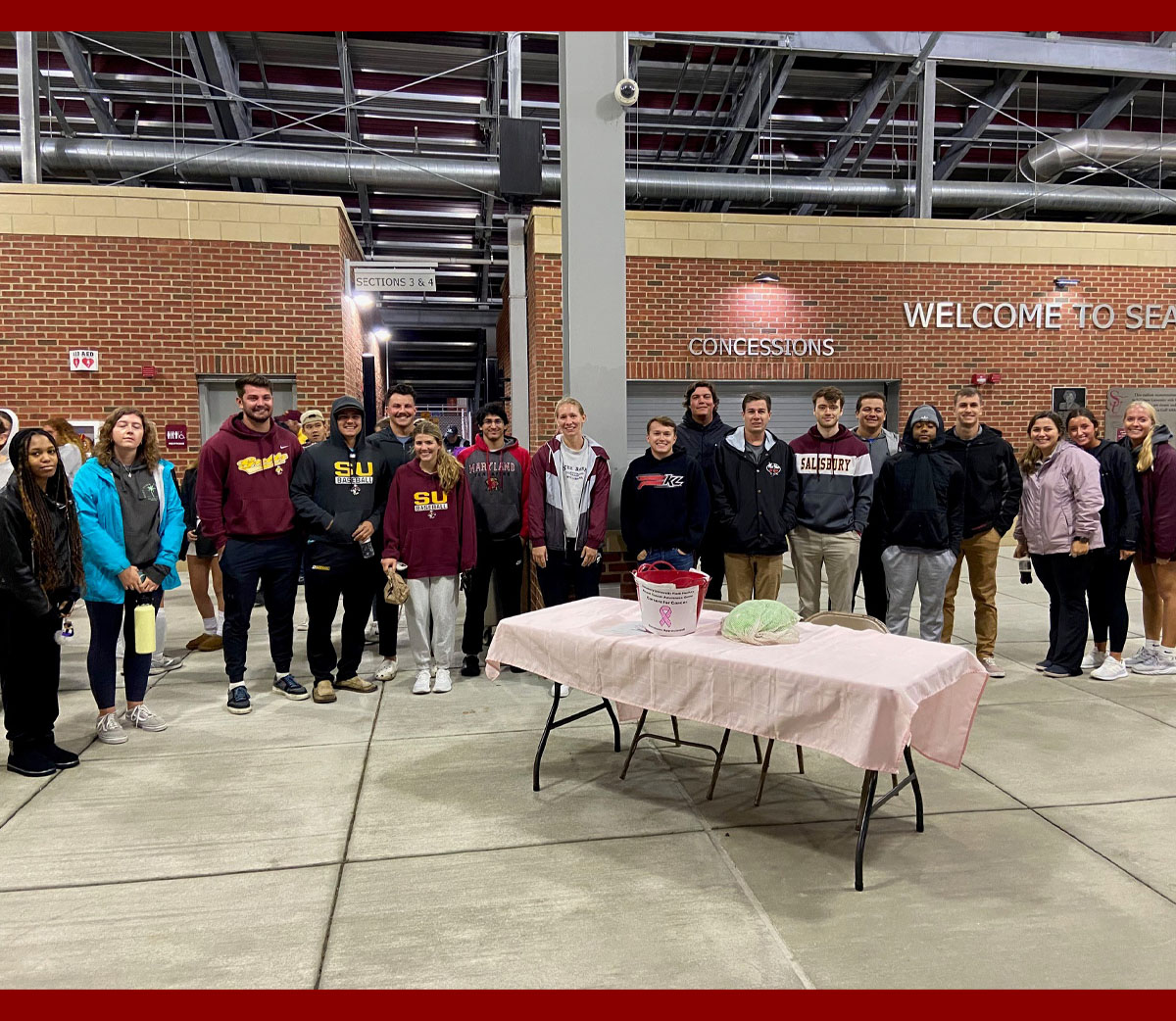 SALISBURY, MD---On the field hockey field, Salisbury University student-athlete Grayson Fipps is all about scoring goals.
In her Sports and Event Marketing class this semester, the senior marketing major from Mt. Airy, MD, had a different goal: raise money for cancer research.
Both worlds collided when her class was assigned to help promote Corners for Cancer, the field hockey team's annual fundraiser for the American Cancer Society (ACS) through SU's ACS-affiliated Relay For Life event, scheduled next spring.
While she was familiar with Corners for Cancer as a member of the field hockey team, her coursework for the event gave her a new perspective.
"As a marketing student, I saw things on the back end," said the SU honors student. "As players, we see the promotions on social media, and we share them, but we don't really create them. Being able to create them in class and then sharing them as a player was a really cool experience."
Students in the class were divided into groups and given specific assignments to plan and execute marketing and awareness campaigns for the initiative, from creating flyers and social media posts, to organizing a campus email, to creating a QR code for electronic donations.
Fipps' group worked with SU's Sports Information Office to create a "Today I Play For…" video campaign, shown on Sea Gull Stadium's video screen during this year's Corners for Cancer game against York College of Pennsylvania. Through the campaign, players dedicated their performance in that day's game to significant people in their lives who had been touched by cancer. Fipps' dedication was to her late grandmother, who died of the disease.
"What we learned in class was emotional messaging vs. informational messaging vs. behavioral messaging," she said. "We took the emotional approach. It was a very special way for the team to come together."
Her group also created a virtual bingo card for a Venmo tree used by field hockey team members to solicit digital donations in an attempt to fill the card.
In addition, the class organized and promoted a fundraiser with local restaurant Playa Bowls, through which 10% of one day's proceeds were donated to the cause. While Fipps was on the field, her classmates staffed a donation table at the stadium. Those two initiatives brought in some $1,747. Combined with online and digital donations to the field hockey team's Relay For Life team, the event raised more than $4,776 for the ACS.
"After the event, the students provided positive feedback," said Dr. Gustavo Schneider, assistant professor of marketing in SU's Franklin P. Perdue School of Business, who oversaw the collaboration. "They enjoyed the process of working on a real marketing campaign focusing on helping a great cause."
Fipps expects the experience she received from the class will help her in her endeavors after her expected graduation from SU in May. Having satisfied her SU Applied Business Learning Experience (ABLE) requirement with an internship at New York-based Kind LLC (maker of KIND breakfast, protein and nut bars, among other pre-packaged snacks) last summer, she is interested in consumer products and omnichannel marketing, as well as business law.
Whether Fipps ends up in the boardroom or the courtroom, she is confident in one thing: Her SU experience is what will have led her there.
Learn more about SU and opportunities to Make Tomorrow Yours at the SU website.