Abbott Earns 2022 Perdue Executive Advisory Council Leadership Award
Monday October 24, 2022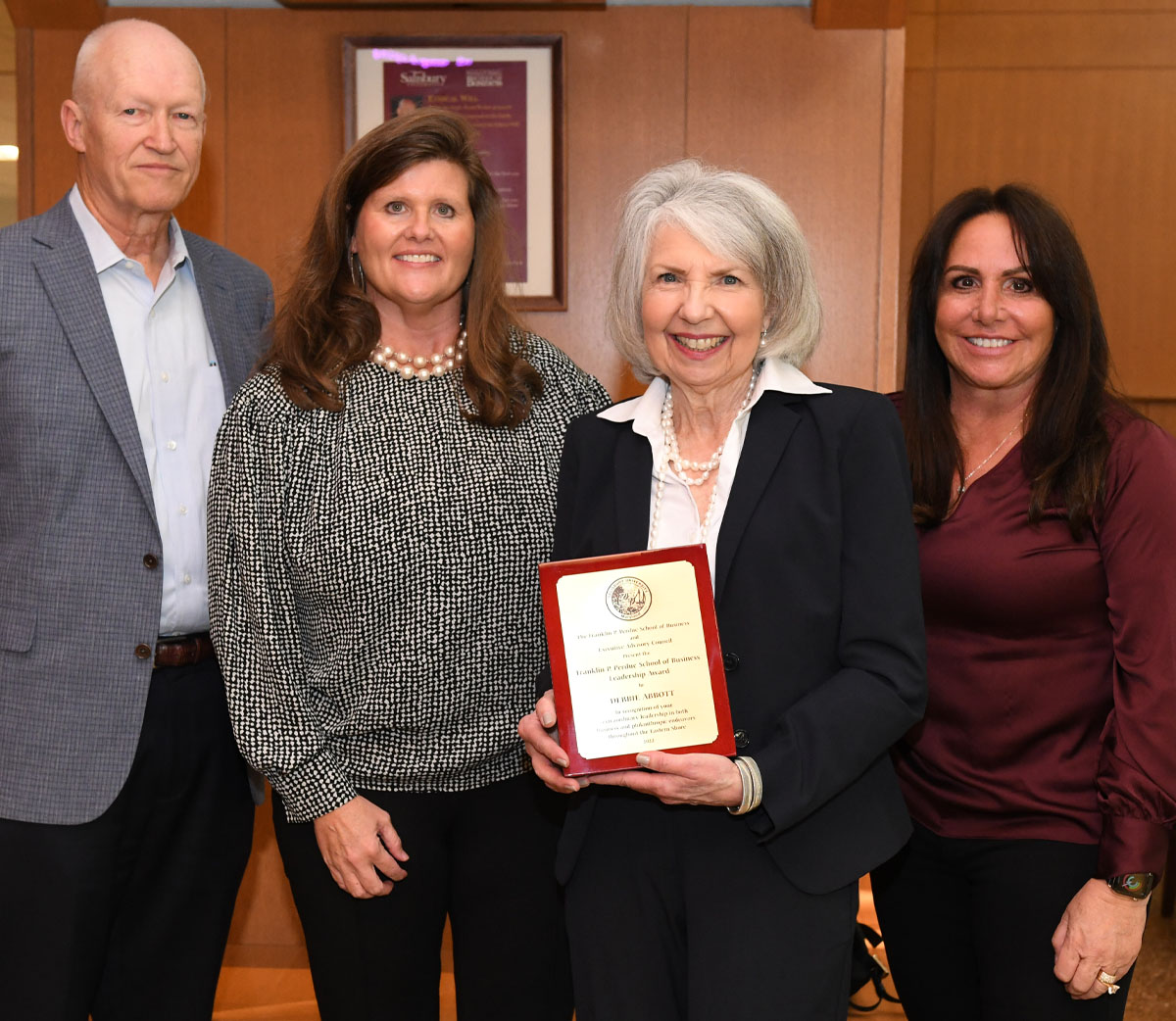 SALISBURY, MD---For more than 30 years, Salisbury University alumna Debbie Abbott has been a business and community leader on the Lower Eastern Shore.
The Executive Advisory Council of Salisbury University's Franklin P. Perdue School of Business recently recognized Abbott for her contributions to the region, presenting her with the Perdue Executive Advisory Council Leadership Award.
After earning her B.A. in communication arts from SU, Abbott embarked on a decades-long career in banking. Today, she serves as executive vice president and chief operating officer of the Bank of Delmarva, overseeing its 15 branches in areas including customer service, marketing, treasury management and human resources. She also represents the bank in business development and lending.
She also has been a lead for the bank's management development effort, Leadership Delmarva, a program providing mentoring to young associates from senior-level executives. In addition, she has served as management lead for the bank's strategic and succession planning initiatives.
In the community, Abbott is a member of the Southern Delmarva Advisory Board of Girl Scouts of the Chesapeake, which named her its Woman of the Year in 2010. She also serves on the board of directors for TidalHealth Peninsula Regional (as immediate past chair); Maryland Capital Enterprises, Inc.; and Hope and Life Outreach (HALO) Ministries. She also is a trustee on the Salisbury Award Committee.
Abbott also has been a member and chair of the Salisbury University Foundation, Inc. board of directors; treasurer and chair of the Coastal Hospice, Inc. board of directors; member of the Peninsula Regional Medical Center Foundation, Inc. board of directors; and president of the Salisbury Sunrise Rotary Club.
In addition, she served on the Salisbury Zoological Park's "Renew the Zoo" fundraising campaign and served for eight years as the inaugural host of PAC 14's SU on the Air program.
"In her dual roles as a leader in business and the community, Debbie serves as a model for our students to emulate," said Dr. Christy Weer, dean of the Perdue School. "Her dedication to providing strong leadership for local institutions that touch so many lives on Delmarva, as well as her efforts to mentor the leaders of tomorrow, make her a worthy candidate for this honor."
The name of each year's Perdue Executive Advisory Council Leadership Award winner is engraved on a plaque in the Perdue School. Each honoree also receives a commemorative award.
Learn more about opportunities to Make Tomorrow Yours at the SU website.
SHARE