Students Take STEM Skills to the Arena at SU's New REAL Robotics Lab
Tuesday October 11, 2022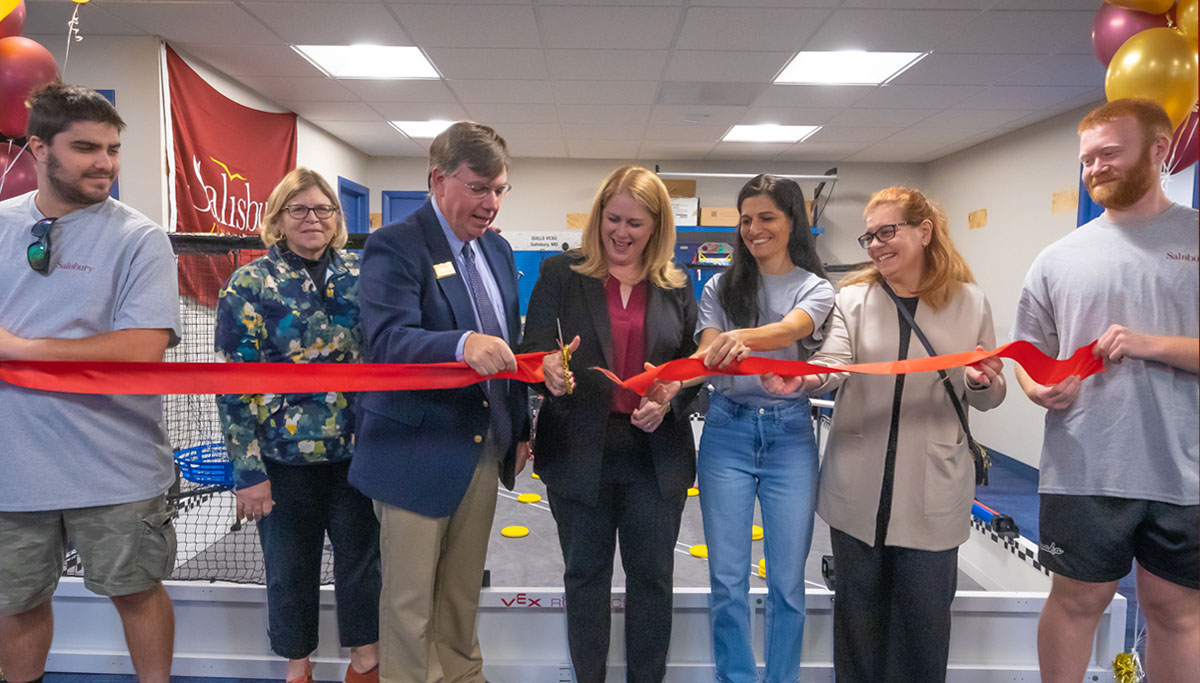 SALISBURY, MD---Salisbury University faculty and students are taking robots and drones from the classroom to their very own arena — and enhancing science, technology, engineering and mathematics (STEM) education opportunities in the process.
SU's Richard A. Henson School of Science and Technology recently open the doors to the SU REAL Robotics Lab. The 1,400-square-foot space, at 1412-6 S. Salisbury Blvd., consists of drone and 3-D printing labs, engineering workstations, and a competition standard VEX robotics arena.
The lab establishes a home base for SU's GULLS VEXU Robotics Team, led by Dr. Giulia Franchi, assistant professor of computer science, and drone research projects with Dr. Andrea Presotto, assistant professor of geography and geosciences and her students.
"Seeing this impressive space shows just how far we've come," said Franchi. "It's amazing to think that our robotics club started in my office, where we could barely fit the students, let alone the materials, or an arena to practice. That all changes now. The students can build, troubleshoot and test their robotics in one space."
Paid for by funds saved due to grants and other cost-cutting measures, the new location opened on the heels of an impressive year for the club, which last spring earned a spot in the 2022 VEX Robotics World Championship in Texas after several successful competitions throughout academic year.
Senior Corey Phillips, of Mardela Springs, MD, is a coach for the Wicomico County robotics team, comprised of high school students across the county, and sees the value for not only current students, but building a lasting legacy of robotics at SU.
"As a local resident who has been involved with competition robotics since I was 12 it's important for younger students to see how what started as a hobby can pay off in the future when in college," said Phillips, a data science major and GULLS VEXU member.
He and fellow coach Jordan Long, a senior information systems major from Columbia, MD, strive to instill the same knowledge and skills they've learned competing at the college level.
"It's nice having perspective. and coming from a competitive side, we know what works and what doesn't and are able to pass that down to the students," said Phillips. "It's also important to have the educational component remain at the forefront. We ensure they learn the ins and outs of software and the complex theory behind the science and that it's so much more than building."
The goal of the SU lab is to provide a welcoming hub for not only seasoned student and faculty engineers, but even students just starting to explore STEM.
"We welcome anyone interested to check out the club and space," said Phillips. "Anyone can do it, regardless of skill or past experience. There are resources to learn more and plenty of people who are willing to help."
Learn more about SU and opportunities to Make Tomorrow Yours at www.salisbury.edu.

SHARE